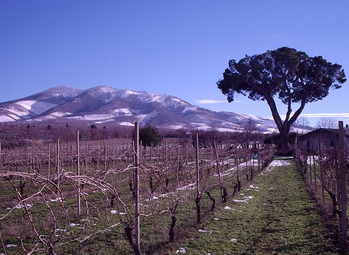 In the heart of Basilicata, the Carbone family has been growing Aglianico grapes since 1974. The vineyards are on volcanic soil, on the lower slopes of Mount Vulture, in Melfi. Sara Carbone and her brother Luca manage the estate, which they inherited from their parents. They have been estate bottling since 2005. The wild and natural environment of Vulture, along with its unique microclimate, transforms Aglianico into an expressive wine, typically smoother and more lush than when grown in neighboring Campania.
The wines are vegan.
Carbone Website

Fiano
100% Fiano.
Basilicata IGT.
The hand harvested grapes are destemmed, the juice is then cooled and left with the skins for a brief period of time. The wine is fermented under temperature-controlled conditions, immediately racked off, filtered and kept at low temperatures. This maintains the fruity aromas in their freshest state and allows for a natural stabilization process. 13.5% Alcohol.



Aglianico del Vulture - "Terre dei Fuochi"
Meaning "Land of Fire", "Terra dei Fuochi" is vinified and aged entirely in stainless steel tanks, to preserve its freshness and fruitiness. Deep purple color, fresh and aromatic, with classic Aglianico spice. This wine also shows a black cherry component, with moderate tannins and a distinct juiciness.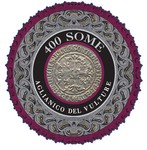 Aglianico del Vulture - "400 Some"
100% Aglianico. This wine is dedicated to Carlo d'Angiò, the great medieval king of Southern Italy. It comes from a top selection of grapes that are hand harvested, and see an extended fermentation-maceration in temperature-controlled, small stainless steel tanks. The wine is then aged for 12 months in French barriques. Dark, almost black color. Powerful and complex with strong, but rounded tannins, this Aglianico is at the cutting edge of the D.O.C.G. Goes well with the strong tasting, traditional dishes from Basilicata.