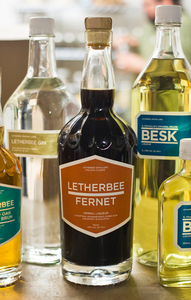 The goal was just to make some good booze. Bartender Brenton Engel was cooking up his own moonshine and it gained such a level of cult popularity that he was inspired to start Letherbee — an independent artisan distillery. The signature concoction would be a distinctive yet versatile gin, made from a recipe developed by Brent and fine tuned based on feedback from colleagues through the Chicago bar scene.
With absolutely no influence from outside investors or marketers, the team of bartenders at Letherbee now distills and produces a range of craft botanical spirits including the aforementioned flagship gin, seasonal variants released semi-annually, barrel-aged absinthe, fernet, and bësk – based on a recipe developed by cohort Robert Haynes. Across the board, Letherbee spirits are made for "wellness" — not only to enliven the discerning drinker but to stock the arsenal of the professional bartender.
Letherbee's total production is now around 1500 cases.
Letherbee Website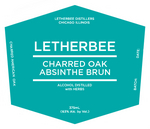 Letherbee Absinthe Brun
Letherbee's Barrel-Aged Absinthe draws its caramel hue from a six-month stint in new charred american oak barrels. Only 3 botanicals are used: wormwood, fennel and anise seeds, macerated together with neutral grain spirit for 2 weeks before distillation. Taking inspiration from two classic recipes from Montpellier and Pontarlier, this straightforward white absinthe recipe mellows in the aging process, softening the anise notes to let sumptuous floral and spice layers resonate. Besides the color, the full-sized barrels also imbue the Absinthe Brun with toasty hints of vanilla and caramel. Bottled at 126 proof, the spirit-forward drink is an addictive sipper that can also add depth to a variety of cocktails.



Letherbee Gin
Few gins unfold like Letherbee's flagship tipple — a small-batch, grain-neutral spirit distilled with a clean yet robust blend of 11 botanicals that macerate together for 3 days before distillation. Juniper berries spearhead a mélange of spices, including coriander, cardamom and cinnamon. Cubeb berries evoke a touch of pepper and a hit of ginger in the finish. Dried lemon peel and orange pith lend the dry balanced concoction a bit of room for keen drinkers to pick up subtle notes of licorice and almond. At 96 proof, Letherbee Gin shines in all contexts whether sipped straight, touched with a few drops of water until slightly cloudy, or mixed in a refined cocktail.
"I believe a good gin should be able to stand up in an old-fashioned, make a good martini, and a good gimlet." That is the basis for this 11 ingredient recipe that took two years to perfect. "Our gin makes bad tonic taste good", says Brenton. It pairs well with citrus flavors and the square liter bottle fits easily in a bar's well.



Letherbee Besk
Letherbee unites with R. Franklin for a refined rendition of BËSK —a relatively obscure yet locally infamous Swedish liqueur dominated by wormwood. The violently bitter shot initially hits with flavors of grapefruit before an onslaught of wormwood alongside earthy gentian root — an effect that lingers on the palate for quite a surprising while. Beneath the acrid din of the more acute tasting notes rests more gentle traces of juniper, star anise, and elderflower musk. Bottled at 100 proof, Letherbee's BËSK remains an esoteric shot for adventurous drinkers, but the bitter liqueur can be gracefully incorporated into sophisticated cocktails.