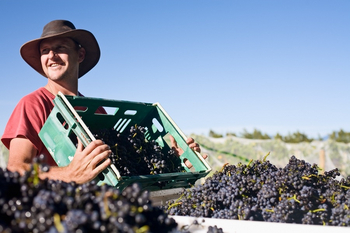 Cambridge Road Vineyard is a small, 5.5-acre estate in the esteemed Martinborough Terrace Appellation in the North Island of New Zealand. It was first planted in Pinot Noir and Syrah grapes in 1986 and was previously known as the Fraser Block. The vines are amongst the oldest in the country.
Cambridge Road is now under the ownership of Lance Redgwell. Landge hails from a line of carpenters on his father's side and farmers on his mother's side. He pursued the culinary arts from an early age, with a healthy respect for all things grown local and organic, and an emphasis on the flavors that can only come from lovingly tended and/or prepared foods. At 18 years old, he was presented the opportunity to merge his commerce studies with the art of wine growing. His pursuit of knowledge has taken him across New Zealand (Vin Alto, Puriri Hills, Neudorf, Taruna College, Biodynamics, Te Mata Peak) to North America (Oregon, Beaux Freres) and Europe (London for sales, Montalcino in Italy, France and Portugal). He lives in a small cabin on the vineyard, with his fiancé Bridie and their five year old son, Aston.
Farming practices: biodynamic. The wines are not fined so vegan friendly.
Cambridge Road Website

Animus Pinot noir
From the beautiful 2011 vintage emerges the second ever Animus. True to its predecessor, this wine delves into the darker wild side of Pinot Noir. The fruit was sourced from three mature Martinborough Terrace vineyards, all farmed by Cambrige road, without chemicals and with a healthy respect for natural rhythms. 95% destemmed, wild co-fermented in small batches, raised in French oak (20% new) for 12 months and bottled without fining or filtration and only a light touch of sulphur.
Punchy primary fruit characters are layered with well seasoned woods and a touch of gamey funk. Lifted spices (cinnamon, anise), bitter chocolate, dark cherries and more botanic aromas from the forest. Supple ripe tannins along with a fine chalky character, generous weight and a lingering depth of fine spice. 13.3% Alcohol, 300 cases made.


Pinot Noir 2009
The 2009 Pinot Noir is the 3rd vintage from Cambridge Road. The structure is tight and well bound to unravel over the next 6-8 years. Fine-grained tannins may be attributed to the depth of older vines and a small component of whole bunches during fermentation. This wine sees a new level of complexity emerging from Cambridge Road due to the grafted old vines returning to production and the addition of a new site adjacent to the Dry River Home Block with vine age up to 25yrs.
Aged for 12 months in barrels (30% new), then 6 months in tanks. A delicate parfume of red fruits dusted with spices of the east. The palate is lively and focused. 13.3% Alcohol, 474 cases made.


Pinot Noir 2010
From the low cropping, cool and beautiful 2010 vintage emerges this Pinot Noir. It is by far the most concentrated and full throttle Pinot Cambridge Road ever produced. 30% new oak as usual but with 18% whole bunch which works to balance the awesomely ripe fruit with its fine tannins and provides a beautiful framework to support the fruit weight. Sourced from both Home vineyard and Regent St block, the decent vine age reinforces the natural density of the vintage.
This tightly bound wine demands 2 to 3 yrs minimum before broaching the seal, expect it to cellar right through to 2024 with a confident drinking window of 5-8 yrs from vintage. Flavour's float from ripe black cherry to touches of fig, liquorice, raspberry and the scent of dark forest soils. Best suited to a cozy fireside setting, this is Pinot not for the faint hearted. 14.7% Alcohol, 302 cases made.


Dovetail
Pinot dominant, this wine is a perfect snapshot of Cambridge Road's home vineyard in a low cropping ridiculously good vintage. The crop was 60% of average, producing deep, concentrated wines across the board. This wine is the estate's Italian love child, blended to reflect natures gifts – 10 barrels of Pinot to 4 barrels of Syrah.
71% Pinot Noir, 29% Syrah. Aged for 11 months in French oak barrels (30% new), 1 month in tank.
Dark and intense yet round and approachable. The nose pushes through luxurious dark fruits to touch on anise at the seams. The balance is dried herbs, with touches of forest woods. Bottled un-fined, and un-filtered with extremely low sulphur. Drink until 2024. 14.4% Alcohol, 135 cases made.