Rockwell Brown >
Washington State
>
USA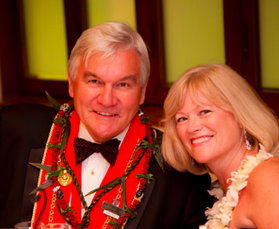 George H. Brown, Jr. and Elizabeth Rockwell Brown have been Bordeaux aficionados for decades. Living in Washington State, they watched the wine industry develop over the past twenty years. They felt there was a need for a traditional Bordeaux style blended red, made with the magnificent fruit that could be grown in the hot, desert-like climate of Eastern Washington. Working with their close friends, Tom and Anne-Marie Hedges, owners of Washington's largest family owned winery, the Browns began experimenting with blends of traditional grape varietals. Their first vintage in 2005 was a great success.
They typically release their wine in June, at a polo match and Argentinian BBQ, as their wine is made to accompany red meat and lamb.
Rockwell Brown Website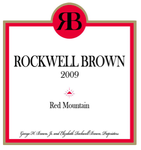 Rockwell Brown
75% Cabernet Sauvignon, 17% Merlot, 6% Cabernet Franc, 2% Petit Verdot.
The grapes are from three Red Mountain vineyards: Bel' Villa (23%), Hedges (21%) and the Obelisco vineyard (56%). The winemakers are Pete Hedges and Sarah Goedhart. The wine is 100% barrel aged: 60% American and 40% French oak, 50% new oak. 13.9% Alcohol. 505 cases made.
The 20 acre Rockwell Brown Vineyard is located within the Red Mountain AVA in Eastern Washington. It adjoins some of the most highly celebrated vineyards in the state. The Browns have 18.5 acres planted in traditional Bordeaux varietals: Cabernet Sauvignon, Merlot, Cabernet Franc, Petit Verdot and Malbec. They settled on this vineyard location after exhaustive research, and determined that Red Mountain and their site in particular, located on the lower shelf, has the most superb soils for their project.
The Red Mountain AVA is an American Viticultural Area that includes the land surrounding Red Mountain in Benton County, Washington. It is part of the Yakima Valley AVA, which in turn is part of the larger Columbia Valley AVA. Located between Benton City and Richland, the Red Mountain AVA is the smallest in the state at only 4,040 acres in area. Currently, the area has just over 600 acres under cultivation of primarily red varietals including Cabernet Sauvignon, Merlot, Cabernet Franc and Syrah. The reputation of the fruit and wines produced from this area has brought Red Mountain AVA worldwide acclaim.