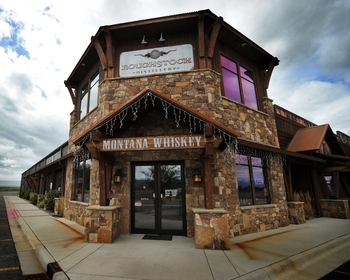 Roughstock Distillery was created by Bryan Schultz in 2008, the first distillery in Montana in over 100 years. One thing history tells us is that a great whiskey starts with two things: amazing grain and pure water. Luckily Roughstock has plenty of both right in Montana, rivaling the best of any place in the world. With beautiful grain grown throughout the state and the pure mountain snowmelt that fills the lakes, streams, rivers, and aquifers, it's a no-brainer that Montana was meant for making whiskey. Damn good whiskey, in fact. Nestled at the base of the Bridger Mountain Range in beautiful southwestern Montana, Roughstock Distillery is quietly hand crafting small-batch, terroir-driven whiskeys with a flavor profile that actually tastes like the rural mountain farmland where it's produced.
GRAIN-TO-GLASS & MOUNTAIN BRED
The base ingredients used to make these whiskeys are as pure and down to earth as they sound. A true reflection of a western style whiskey. The entire process is closely monitored from grain milling, yeast selection, fermentation, slow distillation, selection of barrels and the final marriage of barrels for bottling. Everything is done on site at the distillery in Bozeman, Montana. While some whiskeys claim to be handmade, Roughstock backs up its claim. From grain to glass, each batch of whiskey is carefully scrutinized for superiority. What you can expect is simple, pure, 100% Montana-made whiskey crafted by people who enjoy making whiskey as much as you enjoy drinking it.
BIG SKY FLAVOR
The mash is double distilled on the grains in custom copper pot stills with only the good, clean heart of the distillate kept to maintain the original full flavors from world class grains. The whiskeys are aged in charred American white oak barrels. After aging, mature barrels are selected and married for bottling. The whiskeys are not cold chill filtered as this may strip important oils and flavors that add to the body, complexity, and character of the whiskey. The barrel warehouse is temperature controlled and the frequent high and low pressure weather systems of this unique mountain region work the whiskey in and out of the barrel staves tirelessly. Each of these factors will impart their own elements to the final product.
Pride is taken in the fact that even though the process is the same for each batch, Mother Nature has her own plans for the taste of the final product. Every bottle is hand signed and the unique traits of individual batches and barrels are embraced. The aim is not for continuity but for character. Age should not be the indication of quality. Judge what's in the bottle based on the master distiller's decisions, whether it is 3 months or 30 years old.
What does "RoughStock" mean? The short answer is that it is a rodeo term. A full rodeo consists of rough stock events (bull riding, saddle bronc riding, and bareback bronc riding) as well as timed events (barrel racing, steer wrestling, calf roping, breakaway roping, and team roping). There are a few rodeos where just the rough stock events are held and a single rider will ride a bull, saddle bronc, and bareback bronc in one night for a combined score. It's not for the faint of heart!
RoughStock Distillery is named after the traditional riding events of the early American Cowboy. Steeped in tradition, hard work, and individual skill, the distillery is a reflection of the core values of the American West and its unofficial mascot: the American Cowboy. They take grains grown in the fertile Montana soil and painstakingly turn them in to American whiskeys, begetting yet another American tradition. Just as a rough stock rider shows his/her skills with a quiet tip of the hat, they let their products speak for themselves in the same way.
Roughstock Website

Pure Malt Whiskey
Barley grown throughout Montana is known for its quality in the brewing and distilling industry. It's such a well-known fact, that a malting facility was built right in the middle of Montana in 2005. Starting with the best barley in Montana, it is then expertly malted in Great Falls and delivered fresh to RoughStock Distillery. The 100% malt barley is combined with fresh water from the high country for a distinctly unique malt whiskey. Mashed "on the grains" in the traditional American way, it retains much of the sweet malt flavor that other malt whiskeys lack. After fermentation in an open-top old growth Oregon fir fermentation tanks, it is carefully double distilled in traditional copper pot stills. After distillation, only the sweet, clean heart of the distillate is placed in fine grain virgin American white oak barrels that have been toasted and charred to Roughstock's specifications. After maturation (anywhere from 2-5 years), select barrels are married together for bottling. Barrels are selected to give more of a "layer cake" effect.
The nose opens with touches of light fruit: pear, apple, and caramelized bananas, as well as soft barley. On the palate, the sweet malty grain flavor dominates and the taste finishes with the stronger barrel notes of vanilla, more caramelized banana, toffee, and a bit of tannin spice. A touch of smoke may linger in the background from the barrel char. It will warm as it goes down…



Spring Wheat Whiskey
100% hard white spring wheat grown just up the road from the distillery at Wheat Montana Farms. This unique strain of wheat is grown primarily for the bread making industry and has a higher protein content than other strains of wheat used in the distilling industry. Affectionately known as "Prairie Gold," this wheat has soft and gentle notes when mashed and distilled, providing a distinctly unique taste from the beginning. After fermentation in an open-top old growth Oregon fir fermentation tanks, it is carefully double distilled in traditional copper pot stills. After distillation, only the sweet clean heart of the distillate is placed in the used pure malt casks for maturation. Aging in the used malt barrel allows for the gentle notes of the wheat to shine through without an overbearing oak influence. Aged for 3 to 5 years. After the whiskey is matured, it is then finished with a heavily toasted French oak for a few months which provides a bit more body and complexity on the finish.
A soft hint of vanilla, honeycomb, and light butterscotch permeate the nose. The soft touches on the nose continue on the palate, with more pronounced butterscotch and honeycomb. It rounds out with a sweet spicy finish from the French oak that ends the tasting experience with a pronounced statement. Straw gold in color and a lighter taste on the palate will never have you doubting that this is made with wheat. Prairie Gold, indeed!



Straight Rye Whiskey
Rye was a predominate grain used in whiskey making before farm land in the United States took to growing an abundance of corn. Traditional American cocktails such as the Sazerac, Manhattan, and Old Fashioned were originally made with Rye Whiskey. Unlike most rye whiskeys that generally use only 60 to 80% rye grain, Roughstock's straight rye whiskey starts out with a 100% rye grain mash, mixed with pure mountain stream water. After fermentation in open-top old growth Oregon fir fermentation tanks, it is carefully double distilled in traditional copper pot stills. After distillation, only the sweet, clean heart of the distillate is placed in fine grain virgin American white oak barrels that have been toasted and heavily charred to the distillery's specifications. Aged for 3 to 5 years. With the increased popularity of classic American cocktails, rye whiskeys have seen a comeback in popularity. The dry, spicy nature of rye makes for a broad-shouldered whiskey and RoughStock Rye is unlike any other.
Toffee and spice permeate the nose with coriander, orange peel, and pumpkin spice. On the palate there is fresh mint, more toffee, cinnamon, and slight butterscotch. The finish is a dazzling array of mint and toffee with a slightly smoky oak underpinning. Broad, long, deep, flavor throughout this whiskey with a strong finish.



Bourbon
Montana Straight Bourbon Whiskey is a vatted mix of four different in-house Bourbon recipes with varying corn, wheat, rye and malt contents. When these individual mature whiskeys are married together, Montana Bourbon becomes a rich and complex whiskey with multiple layers of exceptional flavor. This traditional American Whiskey is mashed with pure mountain stream water, carefully distilled twice in copper pot stills, and then aged to perfection in heavily charred virgin American white oak barrels. Handcrafted in small batches in the mountains of Montana, this Bourbon is as grand and pure as the surroundings it was crafted in. Aged for 3 to 5 years.