Clos St Thomas >
Bekaa Valley
>
Lebanon
Established in 1990 by Saïd Touma and his family, on a hill overlooking the Bekaa valley, Château St Thomas spreads over sixty five hectares of vineyards. On this very land of the Bekaa valley, the Romans had once created the Temple of Bacchus, a tribute to the Roman god of wine. Throughout history, this land still shows unlimited potential to produce great wines.
Saïd Touma is a man of passion, with more than 55 years of experience in distillation (Arak, Lebanese national drink) and winemaking. His son Joe-Assaad is an agronomist and winemaker who studied in France (Montpelier and Bordeaux). His philosophy to obtain the best fruit from his vineyards is a respect for nature coupled to a modern winemaking approach. The wines he creates are rich, balanced wines with fresh aromas. Along with a group of devoted technicians - all wine lovers, Saïd and Joe work hard to ensure that the wines of Château St Thomas have a promising future ahead of them.
While Lebanon's four seasons provide an ideal climate for grapes, Château St Thomas' vineyards soil offer excellent grape growing conditions. Located on a hill overlooking the Bekaa Valley- the center of the Lebanese wine industry- at an altitude of more than 1000m, the vineyards are on the eastern slope of Mount Lebanon. The noble grape varieties cultivated (Cabernet Sauvignon, Syrah, Merlot, Petit Verdot, Pinot Noir, Chardonnay, Viognier and Sauvignon Blanc) are accustomed to the climate conditions and geological characteristics of the Bekaa valley: a Mediterranean and a semi-continental climate characterized by cold and rainy winters and hot and dry summers. The soil is well-drained, with a mixture of limestone and pebbly clay. The yields are particularly low. Irrigation is never a problem because the Eastern and Western mountain ranges are recipients of frequent rain and snow from November to April.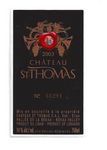 Château Reserve red
1998 was the first vintage for this cuvée. Merlot, Cabernet Sauvignon and Syrah. Low yielding vines (30 to 35 hl/ha) selected from Château St Thomas best parcels.
Fermentation in thermo-regulated tanks. Aged for 18 months in new French oak barrels, then for an additional 10 to 12 months in bottles.
Complex nose of pine, spices, rosemary, ginger and chocolate. An harmonious and generous wine with well-rounded tannins and a long finish. Aging potential: 15 to 30 years.



Les Gourmets - Blanc
Sauvignon Blanc, Chardonnay, Viognier.
Fermentation at a low, controlled temperature. Aged in stainless steel tanks for 6 months. No malolactic fermentation.
Citrus (lime, grapefruit), pear and floral aromas. Fresh on the palate, with notes of exotic fruits (pineapple) and white peach. A wine to enjoy young and up to 3 years.



Les Gourmets - Rouge
Grenache, Cinsault, Syrah and Cabernet Sauvignon. Maceration and alcoholic fermentation in thermo-regulated tanks at controlled temperature. Aged for several months in concrete and stainless steel tanks. Rich nose with eucalyptus, pine and spicy notes. Ripe fruits on the palate, silky tannins. Aging potential of 6 to 8 years.