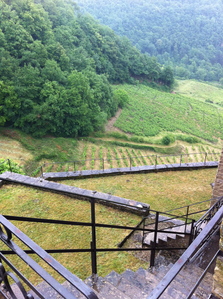 See recent press for Domaine Berthet-Bondet In 1985, Chantal and Jean Berthet-Bondet took over a domaine that had not been producing wine for 50 years and brought it back to life. The vineyards spread on 10 hectares, 5 in Château-Chalon and 5 in Côtes-de-Jura appellation. Château-Chalon possesses the noblest terroir in the Jura region. A composition of limestone and red and gray marl confers both power and great finesse to these wines.
The classic wine of the Jura is the "vin de voile," a technique otherwise practiced only by Spanish sherry producers. During barrel aging, casks are only partially filled, or ouillé, with wine. This provokes the formation of a film of yeast on the exposed portion, protecting the wine from oxidation and giving it a unique flavor of dried fruits and nuts. Also, the logic of the aging cellar is the opposite of that for classic wine-making. Like a sherry cave, these cellars are dry and well ventilated, with enormous variations in temperature. Interestingly enough, this region of France remained a Spanish possession until 1660.
Bondet uses indigenous yeasts, except for the Crémant. By precaution he prepares a "pied de cuve" to start the fermentations of the various cuves. This is made from a small quantity of grapes that ferments spontaneously. He verifies with the lab that these are the right yeasts before incorporating them into the cuves. Selected yeasts are used for the second fermentation of the crémant.
Farming practices: The domaine is certified organic. The wines are vegan (when fined, which is rare, it is with bentonite).
Domaine Berthet-Bondet Website

Cotes du Jura Chardonnay - Balanoz
100% Chardonnay from 40 year old west facing vines - Trias marl soil. The lieu-dit Balanoz is located on the commune of Lavigny.
A pure Chardonnay that speaks clearly of the Jura region. It is barrel-aged for 12 months according to classic methods with topping up to avoid oxidation. The wine is fresh, pure Chardonnay with the distinct notes of the Jura terroir or earth and hay. Serve it with fish, poultry or veal associated with mushrooms, and cheese. Drink within 5 years. 12.5% alcohol.



Cotes du Jura - Trio
50% Trousseau, 30% Poulsard and 20% Pinot Noir - 19 year old vines
Gravel, red and grey marl soil.
This Trio is characterized by its lightness and the complex bouquet of red fruits and earthy character. It can be kept for up to 5 years and is best served cool with charcuterie, smoked meats, grills and meat with fruit dishes such as pork with roasted apple. 12.5% alcohol.



Cotes du Jura - Savagnier
100% Savagnin. The lieu-dit Savagnier is located on the commune of Lavigny, close to Balanoz.
Gravel and marl soil
Made in a non-oxidized style; raised in stainless steel cuves sur lies. Aromas of citrus and exotic fruits, lots of minerality on the palate. Drink within 5 years and enjoy as an aperitif or with fish.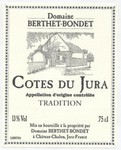 Cotes du Jura White – Tradition
22 year old vines
Gravel and marl soil
This younger sibling of Château Chalon is 70% Chardonnay and 30% Savagnin, aged for two years in the barrel (separately at first, then together for the last 3 to 6 months before bottling). This is a true "vin de voile." After an hour of carafing, this cuvée develops a powerful, rich and complex nose of ripe apple, dried fruits and walnut. The palate is rich, almost fatty, but is supported by ample acidity. The long finish is unmistakably nutty.
Drink this wine with smoked fish, snails with parsley, poultry and veal in cream sauce with morel mushrooms, comté cheese, cheese fondu, gratins with alpine cheeses and curried dishes. Divine with lobster and crabmeat dishes.



Chateau Chalon
The summum, the ultimate, expression of a "vin de voile," this top cuvée of the domaine has received five stars from La Revue du Vin de France, its highest rating.
100% Savagnin, 27 year old vines
Chateau-Chalon is produced from the best parcels of land at Gaillardon (in the parish of Domblans), Beaumont (in the parish of Ménétru le Vignoble) and Sous-Roche (in the parish of Chateau-Chalon). Made strictly in accordance with tradition from the Savagnin grape, it is kept in the barrel for 6 years under it's protective yeast layer, without topping up (ouillage) or racking. Two to three hours of carafing are necessary to open this enormously powerful but equally refined wine. The nose reveals white fruits, citrus and spices, followed by a palate of fruit, citrus, walnuts, hazelnuts, tobacco, dried fruits, dried grasses and curry. The finish is long and nutty, with the afterglow of the palate's complex mix.
The wine is bottled in the traditional 620ml Clavelin bottle, which represents what is left after evaporation (the 'angels' share"). A connoisseur's wine, it can easily keep for 100 years, although it will reach its full expression 10 years after its bottling. Pair up this bottle with white meats with rich creamy sauces, spicy foods or a fine cheese, notably Comté.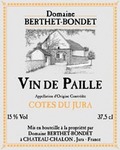 Cotes du Jura - Vin de Paille
40% Chardonnay, 40% Savagnin, 20% Poulsard
17 year old vines
Gravel and marl soil
Paille means Straw and refers to the Straw mats the grapes dry on. In Germany it is called strohwein, or straw-wine. This type of wine was much more prevalent in the 19th century but today is a rarity. It can be found in Hermitage from a few top houses like Chave as well as in the Jura, where the potential alcohol must be higher. Berthet-Bondet makes a small amount of it and it is superb. The blend of Chardonnay, Savagnin and Poulsard grapes that goes together to make this special wine varies from year to year depending on the harvest and condition of each variety. The length of time that the grapes are left to dry, on racks in the drying room, before pressing, also vary depending on the initial amount of juice in the grapes. In recent years, the drying period has been about 3 months. After developing for 18 months in barrels and 18 months in tanks, the resulting wine has structure, 14 to 15% alcohol, and 100 to 110 grams of residual sugar per liter. The wine has developed a rich flavor with a bouquet principally of dried fruits and jams (apricot, quince). It can be kept for more than 20 years and should be served chilled (8ºC).