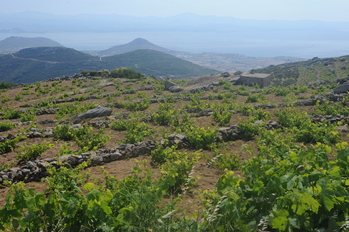 PAROS ISLAND Though just a 1.5 hour, high speed boat ride away from Santorini, the island of Paros could not be more different. The island is vibrantly lush in comparison to the hardscrabble terroir of Santorini. The Moraitis Winery can be found just up the road from the picturesque old fishing port of Naussa. Manolis Moraitis is an affable man whose grandfather started this winery in 1910. Though grapes are grown on many parts of the island, his is one of only two wineries, the other being the coop. There are 1200 hectares of vineyards on the island and Manolis owns 35 and is planting more, producing 45,000 cases of wine each year from his own and purchased grapes.
Farming/winemaking practices: the estate vineyards are certified organic. The wines are vegan.
Moraitis Website

Paros Estate Rosé
Regional Wine of Cyclades
Certified Organic
100% Aidani Mavro, a variety indigenous to Paros island. From a single vineyard located in the Ysterni region, Northern Paros. Skin contact for 4 hours.
Intense aromas of red fruits, strawberries and cherries, with a refreshing finish. 12.5% alcohol. 1125 cases produced.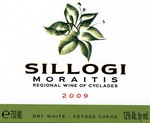 Cyclades - "Sillogi"
Regional Wine of Cyclades
Certified Organic
50% Assyrtiko - 50% Malagousia
From the vines of Manolis Moraitis' family in Paros, uniquely crafted from the varieties Malagouzia and Assyrtiko, cultivated always with his care and under his supervision. The vines are integrated in a biological culture programme since 1997 and controlled by the certification organisation DIO.
- Early vintage between August 10th - 20th
- Pre-fermentation cryoextraction at 10 °C for 8 - 10 hours.
- Mild pressure aiming at revealing the typical characteristics of the Paros terroir.
- Alcoholic fermentation at 16° - 18 °C.
Stainless-steel vats.
Ripe honeydew melon and tangy apple flavors mingle with hints of white pepper spice in a zesty finish.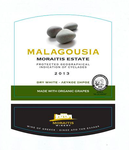 Cyclades - Malagousia
100% Malagousia from organically grown grapes, estate vineyards.
Regional Wine of Cyclades.
A dry, fruity white wine with aromas of citrus and exotic fruits. The grapes are harvested the first week of August. 12.5% alcohol.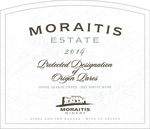 Paros estate white
100% Monemvasia from 30 year old vines - sandy soil with a lot of rock and excellent drainage. The vineyard is non irrigated and the yields are low. The grapes are hand picked between August 7th and August 15th. Pre-fermentation maceration and fermentation at low temperature in stainless steel tanks while 20% of the wine ferments in new French oak barrels. Both spend five months on the lees and are blended together at the end of the process. Intense aromas of exotic fruits and citrus, with a full body and a mineral driven finish. 13% alcohol. 250 cases made.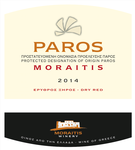 Paros Red
Created from the combination of two ancient varieties, the white Monemvasia (25%) and the deep red Mandilaria (75%), which flourish under the bright sun and resist the famous "Meltemi" winds of Paros
The Mandilaria grape, rich in color, is also known as Amorgiano. It grows well in poor rocky clay soil mixed with sand. It is mainly cultivated on the islands of Paros, Rhodes and Crete. Mandilaria is found in various Appellations of Origin usually with other grapes such as Monemvasia in Paros, Kotsifali in Crete or as a single variety on the island of Rhodes, producing distinctive red wines
- Made of selected mountainous low yield (5000 kg/ hectare) Paros vines, 60 year old on average.
- Vintage between September 10th - 15th
- Alcoholic fermentation at 24 °C.
- Aging for at least 12 months in new oak French barrels.
Spice and prune aromas with dark berry tones. On the palate it has rich and robust feel with concentrated tannins and a long finish. 13% abv.



Liastos
(Previously known as "Liastos")
Protected Designation of Origin Paros
Naturally Sweet White Wine from Sun Dried Grapes
100% Monemvassia
Late harvest Monemvassia grapes picked at the end of August and then sundried on nets next to vineyards site for 2 weeks. Long classic white fermentation for 3 weeks.
Matured for at least 2 years in French oak barrels.
Tasting Note: Luscious with rich, ripe apricot and peach flavors mixed with honey and tangerine rind in the lengthy finish.