Established in Hokkaido, 1661.
Otokoyama, the masterpiece sake of Japan, has been cherished by many historical figures in Japan since the Edo era (1603-1867). Otokoyama was served to the Tokugawa Shogun family during the Edo era and became well known as a distinguished sake. It was even painted in the Ukiyoe, a Japanese woodblock print.
This acclaimed sake is made with the underground water from the perpetual snows of Mt. Daisetsuzan in the severe, cold climate of Hokkaido, at the northernmost tip of Japan.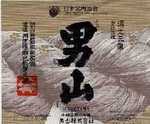 Tokubetsu Junmai "Man's Mountain"
Earthy yet fruity nose that borders on ripe fruit. Very dry, with notes of dried fruit and a subtle earthiness.
SMV: +10
Acidity: 1.6
Alc:15.5%


Junmai Genshu - Fukkoshu
A sweet sake with aromas of honey, ripe pear and honeysuckle. A Riesling-like balance of acidity and sweetness that makes it a great pairing for spicy fares.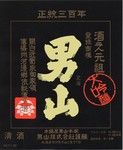 Junmai Daiginjo "Man's Mountain"
Welcome to one of the preeminent daiginjos in the history of premium sakes – a special sake for a special occasion. The elegant nose is filled with sweet rice, white chocolate, and juicy pineapple. A silky walk of plum skin and straw flavors fills the mouth with a velvety push that quickly ends. At each level, you'll discover flavors such as pomegranate, minerals and sweet potatoes, all of the elements working in harmony to create a more than just a sip of sake; it's a taste of history itself. It has been honored at the international Liquor Competition awards for 28 consecutive years and won the gold prize every year since 1977. This sake would be a good pairing with something delicate and poached.
SMV: +5
Acidity:1.6
Alc: 16%-17%