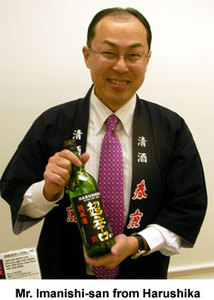 Established in Nara prefecture, 1884.
In Nara prefecture, the birthplace of Japanese culture, there are many large temples and shrines, including the world's oldest wooden building, which is recognized as Japan's cultural heritage. Since the 8th century, Shinto priests of kasugataisha (Kasuga Shrine) have brewed sake in order to make offerings to the gods.
Having ended its sacred work after the separation of Buddhism and Shintoism was ordered by the Meiji government, the Imanishi clan started brewing sake in 1884 as the official sake brewery of the Kasuga Shinroku (Kasuga deer of the gods). Later it was changed to Harushika (Spring deer).
"Tokimeki" Sparkling Sake "Falling in love"- Happo Junmai
Fruity and sweet flavors, balanced by a nice acidity. Wonderful as an aperitif, with appetizers, spicy food or light desserts. Before serving, gently tip the bottle to mix the sediments with the sake and obtain the full range of flavors.
SMV: - 90
Acidity: 5.5
Alc: 6%