Ichinokura was established by four breweries in 1973, each of which had a 100 to 300 year history in Miyagi prefecture. The brewery was founded with the purpose of "brewing the best quality sake" as well as "Promoting agriculture and revitalizing the region through the cooperation of the brewing industry".
The brand, Ichinokura ("Ace brewery") expresses the wish to become the Number One brewery by combining four of them into one. The main brewery is in Matsuyama-cho, a gorge in deep forest with clean, fresh air, blessed with abundant underground water and rice suitable for sake making.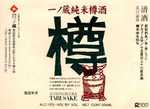 Taru (cedar barrel) - Tokubetsu Junmai
A refreshing sake aged in new Japanese cedar barrels for a couple days. A hundred years ago, all sake was like that as it was shipped in cedar barrels. Fresh flavors and spicy finish that pair well with barbecued vegetables.
SMV : +2
Acidity: 1.4
Alc: 15%-16%



Himezen ("princess") - Tokubetsu Junmai
Light and smooth type.
Low Alcohol (8%).
Clean acidic flavor of citrus fruits with crisp, refreshing finish.