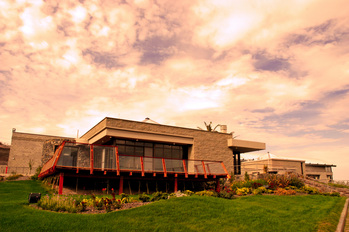 San Patricio del Chanar, a new viticultural region in Patagonia (there are only 14 wineries in Patagonia), is home to unparalleled conditions for growing top quality grape varieties. Light stony soils, generous streams of pure melt-water, intense sunlight and a substantial diurnal temperature difference all contribute to make this the next important wine region to emerge from Argentina.
The Schroeders, a European family deeply rooted in Patagonia and well-known for their solid enterprising profile, approached this ambitious 120-hectare productive project using such varieties as Malbec, Merlot, Pinot Noir and Cabernet Sauvignon for red grapes and Sauvignon Blanc and Chardonnay for white grapes.
As the vines settled in their terroir through an innovative farming system, the winery saw its inception in October, 2002, and grew to become today's fully-functioning vineyard-winery complex, producing exquisite wines that captivate local and foreign experts and consumers. All their wines are hand harvested.
The vineyards are certified Organic under ISO 22000 and Global Good Agricultural Practices "GAP". During the soil movement that preceded the winery's construction was discovered the remains of a Titanosaur, a dinosaur that roamed the area millions of years ago, and one of the largest species ever known! This discovery alone was important enough to deserve a special cellar, built to exhibit the original fossils, and served as an inspiration for the name of the Saurus line.
Familia Schroeder Website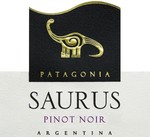 Saurus Pinot Noir
Patagonia is great for Pinot Noir. The strong winds keep the berries healthy and the small, thick-skinned berries produce wines of great aromas and color, with a good natural acidity.
40% of the wine aged for 3 months in French and American oak barrels, with the remaining in stainless-steel tanks.
Round, fruity, with notes of strawberry and raspberries.


Saurus Barrel Fermented Pinot Noir
100% Pinot Noir.
Clone 777, from block #13. The grapes are hand harvested, and the bunches kept at 32°F in a cooling chamber until they are carefully selected. 5 days maceration, then fermentation in oak barrels. The wine is aged for 6 months in new French (30%) and American (70%) oak barrels.
Red fruit notes on the nose (red currants, raspberries and strawberries) with a delicate touch of vanilla and cocoa brought by the oak. Fruity on the palate, with sweet tannins and a bouncy acidity. Bottled without filtering. 14.5% alcohol, 1083 cases made.


Alpataco malbec
100% Malbec.
"Alpataco" is an indigenous bush that symbolizes the tenacity of life in the Patagonian steppe. Low-yielding vineyard and hand-picked grapes. 40% of the wine is aged for 6 months in French and American oak barrels. Complex nose, aromas of red fruits (cherries) and spices. Structured and fresh palate. 14.3% alcohol.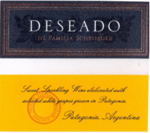 Familia Schroeder Deseado Sparkling Torrontes
100% Torrontes, Charmat method, 9.5% alcohol, 75 grams RS per liter.
A versatile sparkling with very small bubbles. Elegant and aromatic nose, excellent acidity, notes of honeysuckle, rose petal and orange blossom. Excellent with spicy food, desserts (custards or fruit tarts) and creamy cheeses. A great bubbly for cocktails.



Familia Schroeder Extra Brut Sparkling
60% Chardonnay, 40% Pinot Noir. Charmat Method.
This medium bodied sparkling shows a pale yellow color and persistent bubbles. The nose is fruity and elegant, toasted bread and smoky aromas, good acidity and long finish.