The Bodega Cooperativa Union Campesina Iniestense was founded in 1944 by 34 members which has grown to 1,200 today. They collectively own 7,000 hectares of vineyards. Composition of varietals grown: 50% Bobal (from which Senorio de Iniesta Rose is made), 25% Tempranillo, 5% Shiraz, 10% Cabernet Sauvignon, 5% Sauvignon Blanc and 5% Viura.
The vineyards are located around the town of Iniesta, in the province of Cuenca near the border of Valencia in southeast Spain. The average altitude of the vineyards are approximately 700ft above sea level.
Tradition and deep-rooted culture influenced by the Romans and the Arabs have given them an inheritance of thousands of years of viticultural experience. This history along with the gift of nature and modern technology have enabled them to offer outstanding valued wines.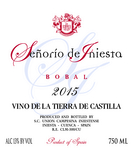 Bobal Rose
100% Bobal, a fragrant and fruit-forward variety native to Spain.
Lightly crushed after de-stemming. Macerated for a period of 10 hours before devatting to obtain the free run juice. Fermented in stainless steel tanks.
This delicate pink rose is pleasantly acidic with vivid notes of red berries. 13% alcohol.