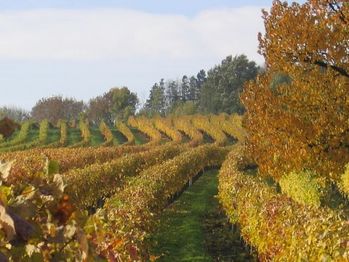 Khe Kollwentz estate, founded in 1775, cultivates 20 hectares of vineyards on the southern slopes of the Leitha mountain range, around the town of Grosshöflein, on the western side of Lake Neusiedl. The soils in this part of Burgenland are a unique mix of limestone, clay and granite, which impart a distinct minerality and structure to the wines. Kollwentz offers a range of the red native varietals,Zweigelt and Blaufränkisch , as well as world class wines made from Sauvignon Blanc, Chardonnay and Cabernet Sauvignon. All the fruit is estate-grown. The modern history of the venerable house begins with Anton Kollwentz. Born in 1940, Anton represents the sixth generation of the Kollwentz family. At the age of 18 Anton became responsible for his parents' cellar. He quickly made a name for himself in the 1960s with his noble sweet wines, which he placed — a first for such wines — in Austria's top restaurants. Encouraged by the response from up-scale restaurants, he turned towards dry white wines in 1970. For more than a decade he was the sole advocate of dry Burgenland whites. In addition, Anton's love for Blaufränkisch led him to take this native varietal to new heights in the unique ambiance of the Leithagebirge. His commitment to perfection and his openness to innovation, such as the use of French oak barrels, malolactic fermentation in cask, and blending made him one of the fathers of world-class pure Blaufränkisch wines and blends such as Steinzeiler. In 1989, Andi Kollwentz returned home to his parents' winery after training at the vinicultural college of Klosterneuburg and stages in France. With the 1993 vintage, Anton Kollwentz handed over responsibility for the cellar to his son Andi. The Falstaff Wine Guide offers this appreciation: "Andi Kollwentz is the decathlete among Austria's vintners, being a dab hand at the most diverse disciplines and ranking on top in every category…. this is what really makes great winemakers: whether a small vintage or a terrific year, you can always rely on them. And for years now you can count on the Kollwentz family at every tasting – dealing with whatever style and variety." All grapes are from the estate's own vineyards and are picked by hand. This implies rigorous selection directly on the vine — only fully ripe, healthy fruit ends up in the cellar. The vines are encouraged to root deeply to seek nutrition. This makes for lower yields and healthier grapes which posses extra aromas, flavors and concentration.
Kollwentz Website

Sauvignon Blanc Steinmuhle
Sauvignon Blanc is an old Burgenland variety. In the vineyard, it is the most difficult grape variety altogether. It makes special demands on its location and it grows perfectly on meager flint-stone (silex) soils (not limestone). Such are the soils found in Ried Steinmühle, giving expressive wines with delicately pungent fruit brought about by the interplay with the Pannonian climate prevailing in Burgenland. The vines are between 25 and 40 years old and the wines are raised in 70% stainless steel and 30% large oak casks and bottled in March following the vintage. The aroma spectrum of this Sauvignon reaches from green peppers to elder flowers and passion fruit. It harmonizes perfectly with fish, asparagus and light meat.
The single vineyard Steinmühle is located on a plateau above the Wulka River, which is the largest tributary to Lake Neusiedl. This plateau rises 15 meters above the Wulka Plain. It was formed by sediments from the Leitha River thousands of years ago. The mighty quartz gravels are also known as flintstone or silex. According to soil maps, this soil is the driest location in the district of Eisenstadt and surroundings. It is excellently suited for growing Sauvignon Blanc.
During the growing season, Sauvignon vines need sufficient water for the development of aromas and flavors. This does not only come from the soil, but for the major portion also via the leaves. Due to its closeness to the Wulka River, heavy dew forms early in the morning. This phenomenon creates a very special mesoclimate and, along with the flintstone soil, produces the pungent fruitiness at a simultaneously high physiological ripeness of the Sauvignon Blanc Steinmühle. Around 500 cases made.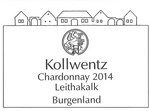 Chardonnay Leithakalk
Chardonnay has been grown on the slopes of the Leithagebirge for at least 100 years. It was once called Klevner. Everywhere in the world where Chardonnay yields wines of superior quality, you will find lime-based soils (Champagne, Cote d'Or). It is exactly such limestone soils, mixed with slate, which are encountered on the Leithagebirge. The wine is raised in 75% stainless steel and 25% large oak casks. The interplay between soil and Burgenland's Pannonian climate produces a mouthfilling, elegant wine with slightly spicy aromas and flavors. This Chardonnay works beautifully with seafood, fish and light meat. Around 675 cases made.



Chardonnay Gloria
The single vineyard Gloria was mentioned for the first time in the land register of Forchtenstein in 1570. It stretches at an altitude of 300 to 325 meters above sea level and is thus the highest vineyard on the Leithagebirge. The woods enclosing this site on all sides have a cooling influence. Due to its southeast exposure, the vines are pampered by the sun starting early in the morning. In addition, the early heat ensures rapid drying of the berries. The grapes therefore enjoy long hang-times in autumn without being jeopardized by early noble rot. The soil of Gloria consists of calcareous rocky brown earth with an extremely high portion of limestone. The uppermost soil depth is merely 30 to 40 cm thick, limy rock starting immediately below. The ripening period is slow because of the prominent height position of the hill and the cooling influence from the woods. Low vigor leads to reduced yields. Small bunches carrying small aromatic berries produce plenty of minerality and spiciness year after year.
The wines are fermented and aged in barrel (a mix of new and old) with lees stirring. The key elements of this wine are a marked minerality and finesse. Chardonnay Gloria marries beautifully with seafood, shellfish and pasta. Around 500 cases made.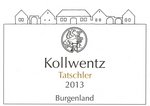 Chardonnay Tatschler
Chardonnay has a long history in Burgenland where it was once called Klevner. Chardonnay excels on limestone soils in a few places around the world, including the limestone slopes of the Leitha hills of northern Burgenland, west of Lake Neusiedl. The Tatschler vineyard, first mentioned in 1570, is an 8 hectare south-east facing slope at about 220 meters altitude. Its thin, limestone-slate soil over primary rock allows the Chardonnay grapes to slowly develop to full ripeness. The parcel used for this cuvée was planted in 1988 and 2001.
The grapes are hand harvested in October, usually 2 weeks after the Chardonnay Leithakalk. Alcoholic & malolactic fermentation and aging in 100% French Allier oak Barriques, which are one third each new, 1 and 2 years old. Regular stirring of the lees for over a year. Last 6 months of aging in stainless steel tanks. Bottled after 18 months, the 2nd April after the harvest. 400 cases made.
Kollwentz's Tatschler Chardonnay offers exceptional richness and depth of flavor, an opulent texture, with notes of hazelnuts, and ripe pear and citrus, with a long finish.



Zweigelt Follikberg
The Follikberg is an east-facing vineyard of limestone and clay.
The Zweigelt grape is a crossing between Blaufränkisch and St.Laurent. It was bred in 1922 by a Dr. Zweigelt, after whom it was named. On account of its high quality, Zweigelt was the only new variety accepted in the Austrian vine scene. Its elegant character and delicate sour-cherry flavors make it an enjoyable drink already one year after harvest. The superb Follikberg Zweigelt is raised for 6 months in neutral barrels before bottling. It is the perfect match for grillades, pork and lamb. Around 675 cases made.



Blaufrankisch Leithakalk
This wine comes from the south, southeast and east facing slopes of the Leithagebirge. Blaufränkisch is Burgenland´s traditional grape variety. It thrives well in the Pannonian climate on the southern slopes of the Leithagebirge with their calcareous loam soils. After its elevage in neutral oak barrels for 9 months, this Blaufränkisch is bottled unfiltered. It stands out for its lovely berry fruit and elegant spiciness. It is the universal companion to pâtés and meat dishes. Around 800 cases made.



Eichkogel
The Eichkogel (the name is a joining of the German words for Oak and Small Mountain) is a blend of Burgenland's traditional varieties: Blaufränkisch (70%) and Zweigelt (30%). The grapes ripen to full maturity on the south-facing slopes of the Leitha Hills which enjoy Burgenland's warm Pannonian climate. The vineyards were planted in 1985, 1992 and 1995.
Fermented with indigenous yeasts. The Eichkogel is aged for 18 months in small oak barrels, of which 20% are new. The remaining is aged in two year old barrels (from Taransaud and Seguin-Moreau). It is bottled without filtration and fining and rests in bottles for 6 months before release. Eichkogel unites the spicy berry fruit of Blaufränkisch with the velvetiness of Zweigelt. It matches superbly with hearty meat dishes such as lamb and steak. 13.5% alcohol.



Steinzeiler
Steinzeiler derives its name from the rocky, calcareous soils on the southerly slopes of the Leithagebirge. Here, vines have been grown for 2800 years. Steinzeiler - a blend of predominantely Blaufränkisch (80%) plus Cabernet Sauvignon and Zweigelt - is a powerful red made from carefully tended old vines (nearly 50 years), displaying both elegance and charm. It is raised in 100% new barrels for 9 months. The wine marries perfectly with game, red meats and hard cheeses. Younger vintages should be opened or decanted a few hours before drinking. Around 600 cases made, but only in top years.



Cabernet Sauvignon
92-94 Points, Falstaff Wineguide.
Kollwentz pioneered Cabernet in Austria and has had much success. Now he has many imitators but no equals.
Cabernet Sauvignon is the world's most widely spread red grape variety. In the Pannonian climate of Burgenland it ripens to excellent quality in the limestone and loam vineyards Kollwentz uses to grow this grape. At a yield of just under 30 hectoliters per hectare, an elegant wine rich in extracts is produced, which is aged in new oak barrels for 9 months. This Cabernet develops a striking cassis nose with a delicate vanilla fragrance, reaching its optimum drinkability after five to seven years. Cabernet Sauvignon works beautifully with game, beef and cheese. Around 250 cases made.



Setz
93 Points, Falstaff Wineguide.
The single vineyard "Krapfiried," in common parlance plainly called "Setz," was first mentioned in documents in 1570. It borders the Großhöflein vineyard sites in the direction of Kleinhöflein. The southeast facing Setz vineyard enjoys plenty of sunshine from early morning till late in the afternoon. This allows the Blaufränkisch grapes to fully ripen in this wind-protected site. The wine is aged for 30 months in new and used oak barrels. This is the estate's top Blaufränkisch, with enchanting cherry-fruit and intense spiciness. It is a delicious companion to grilled dishes. Younger vintages should be opened or decanted a few hours before drinking. Around 200 cases made.