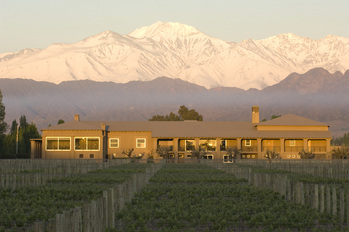 Bodega Andana is a tiny winery owned by Carlos Pulenta's son-in-law, Fernando Podesta. The grapes for all wines except the Torrontes come from Finca Los Alamos, a family farm owned by Antonio Pulenta. The 30 year old vineyards are located at 1000 meters above sea level, at the foot of the Andes. After a manual harvest in 18 kg boxes, the grapes are transported to Pulenta's Vistalba winery where the wine's production is overseen by Vistalba enologist Alejandro Canovas. The total production is around 5000 cases.
Farming/vinification practices: Sustainable. Minimal herbicides are used, no pesticides or other chemicals on the grapes. The wines are vegan.
Accuro Website

Sauvignon Blanc
100% Sauvignon Blanc from vineyards in the Upper Uco Valley in Mendoza. Silt soil low in organic matter, with a considerable amount of rock fragments and good drainage. The grapes were hand-harvested in small boxes through 2 passes, one at the end of January and one at the very beginning of March. Citrus with subtle herbal notes, good acidity, delicate and fresh wine. 12.7% alcohol.



Torrontes
100% Torrontes from Cafayate Valley, Salta. The grapes are bought from one producer with whom Accuro has a long term contract. Manual harvest in 18kg boxes. Because it is difficult to rent a bottling facility in Salta, the wine ferments there but is then put on a truck and drove at night to Mendoza, to the Vistalba winery.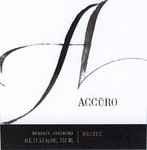 Malbec
100% Malbec from Finca Los Alamos, in the Upper Uco Valley part of Mendoza. The vines are grown on sandy loam soil. The wine is raised in 80% stainless steel tanks and 20% used French oak barrels for 8 months, with an additional 6 months in bottle before release. Intense ruby red color with delicate aromas of plums, dry figs and a hint of vanilla. Velvety tannins and long finish.