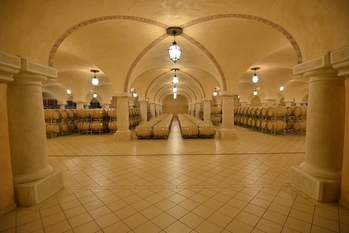 Four generations of the Dal Cero family have worked at Ca dei Frati (the "house of friars") since acquiring the estate in 1940. The winery is located on the south banks of Lake Garda, near the Sirmione peninsula, and the vineyards benefit from the cooling influence of the lake. The prevailing wind and mild climate contribute to the production of high quality wines despite the flatness of the land. With 150 hectares of vineyards (all of them hand harvested!), Ca dei Frati is the most important winery in Lugana. Grapes are grown on predominately clay soil. The focus of the estate is the local Trebbiano-based Lugana. At Ca dei Frati, Lugana is interpreted in a variety of styles, some innovative and some traditional, all however true to the spirit of the region and its proud wine heritage. The wines are elegant in structure with a hint of wildness and are unique for their concentration, complexity, and expressiveness.
Ca dei Frati Website

Lugana I Frati
The wine is estate-grown Turbiana, a clone exclusive to the winery. The grapes come from vineyards enjoying the moderating climate effect of Lake Garda, barely 400 meters away.
Fermentation and aging on the lees for 6 months in temperature-controlled stainless steel tanks. 80% Malolactic fermentation. The wine rests for 3 months in bottle prior to release.
This is Ca Dei Frati's flagship wine. It has made their reputation and it continues to embody the winery's commitment to quality and local traditions. The grapes are from 10 to 35 year old vines planted on calcareous and clay soil.
The nose is clean, delicate and fragrant, with notes of fresh white flowers and nettles, apricots and almonds. An attractive acidity gives it an elegant finish and makes it highly drinkable. It ages well and after several years in bottle, acquires complex notes of spices and candied fruit.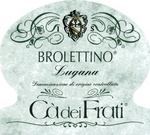 Lugana Brolettino
"Broletto" is an ancient Italian word probably derived from a Celtic one. Its first signification is "little orchard or garden"; hence the meaning "field surrounded by a wall".
100% Turbiana from I Frati, Sirmione San Rocco, Ronchedone and Desenzano del Garda vineyards, all on chalky clay soils. Fermentation in temperature-controlled stainless steel tanks and barriques. Malolactic fermentation and aging for 10 months in barriques, followed by 3 months in bottle before release.
Mature grapes are harvested around mid-October. Together with the terroir, they produce a long-lived, well-structured wine. On the nose, rich aromas of ripe peaches and yellow apples, wild rose petals and fresh balsamic notes. It is full-bodied but nevertheless maintains its freshness and elegance through the finish. 13.5% alcohol.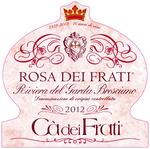 Rosa dei Frati
60% Groppello, 15% Marzemino, 15% Sangiovese and 10% Barbera
Aged 6 months on fine lees in stainless steel tanks, followed by 2 months in bottle.
Fresh, delicate and incisive with notes of hawthorn, green apple, almond and wild cherry. A lively rosé.



Ronchedone
50% Marzemino, 40% Sangiovese, 5% Cabernet Sauvignon, 5% Cabernet Franc.
The southern part of Lake Garda, where the first morainic hills arise, is renowned for its production of white wines. It also produces red wines of structure and body, like the Ronchedone.
Soil composition: chalk, limestone and sandy clay.
Aged for 14 months in 1 to 4 year old barriques, followed by 10 months in bottle before release.
Rich, fruity nose, with a hint of red fruit, macerated blackcurrants, kirsch, aromatic herbs and jam. Powerful and incisive on the palate, clean and savory, with a good degree of acidity, reflecting the characteristics of the soil that produces it. 15% Alcohol.