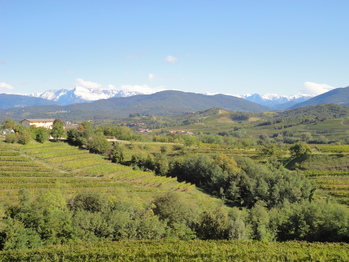 It was back in 1963 that Leonardo Specogna, originally from MonteFosca nelle Valli del Natisone, returned to Friuli after a few years spent in Switzerland. He bought a small plot of land on the hills of Rocca Bernarda in Corno di Rosazzo, in the heart of Friulian wineland. This eastern part of Friuli has been used for viticulture since Roman times and benefits from ideal vine growing conditions. In the North the Carnic and Julian Alps protect the area from the cold Northern European winds, while the Adriatic in the South mitigates the temperatures. These are favorable climatic features for the area, which also enjoys a high diurnal temperature variation (important for the development of the aromatics in the wine), amplified by the Bora winds - which also help dry the grapes. The soil is a mix of sedimentary rock dating back to the Eocene era and alternating layers of chalky clay and calcified sandstone. It is rich in minerals and other trace elements which help produce high quality grapes. Today, the family tradition is kept alive by the third generation of winemakers, Cristan and Michele. They work hard to improve the quality of the Specogna wines, and started a few years ago a new adventure in the zone of Ramandolo: the Toblar winery. The domaine owns 20 hectares of vineyards situated on the hills, 100 to 200 meters above sea level, many of which 40 to 50 year old. This means the extensive root systems can reach deeper into the ground, taking in more of the water and mineral components necessary for the best possible maturation of the grapes. Specogna also owns a small nursery where they grow clones in danger of being extinct, using buds collected from the oldest vineyards in the area. This system allows them to study and continue growing vines which would otherwise soon become a distant memory. Production is kept low in order to guarantee a better concentration of all the elements vital to the production of high quality grapes. Vinification practices: the white grapes (apart from Picolit) macerate shortly with the skins (two to three days) in order to obtain a fuller-bodied wine with intense color. The must is then separated through a light pressing. For all types of wine, a certain quantity is left to ferment in wood barrels with the remaining in stainless-steel tanks. At the end of the fermentation process, the wine undergoes a single racking and then settles until May. For wine made from Picolit, the grapes are harvested and left withering for at least a month. The stalks are then removed, without being pressed, and the grape must undergoes fermentation in oak barrel, where it remains until September. For the red grapes, the maceration process is very long (nearly a month). Afterwards, the wine is put in oak barrels for about a year. For Pignolo and Merlot, the aging is longer. The grapes are harvested and left withering, prior to going through maceration. Picolot and Merlot wines are aged for two years in new 5 hl Tonneaux.
Farming/sustainability practices: the winery is gradually moving towards organic viticulture. It participates to project VTS (Vini di Territorio Sostenibili), created to develop a set of knowledge and expertise to eliminate the use of synthetic insecticides and fungicides. All vineyard work is done by hand, following the biodynamic calendar. Rose bushes, olive trees and cherry trees were planted to fight erosion. Finally, solar panels were installed on the roof of the winery, which is now self-sufficient for its electricity and hot water.
Specogna Website

Friulano
100% Friulano from vines planted in 1970 - 20% aged in wood, 80% in stainless steel.
Spicy and well-rounded with a hint of citrus, almonds, exotic fruits and a touch of white peach, sage and white pepper. A powerful, structured wine, with good acidity and a well-orchestrated fruity and spicy complexity; almonds and exotic fruits lingers on the finish.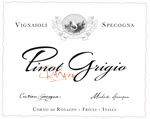 Pinot Grigio Ramato
100% Pinot Grigio from vines planted in 1985, grown at 110 meters above sea level. Specogna was one of the first to reintroduce the "ramato" method of extended skin contact, giving the wine a pale rosé-like color. The grapes are harvested by hand onto trays at the end of September, then crushed softly, and immediately cooled to 7-8 C°. 60 hours of skin maceration in temperature-controlled stainless steel tanks with 5-10% aged in new French oak barriques. Fermentation with indigenous yeasts. Very pale salmon color. A lively and expressive Pinot Gris nose, followed by a rich and juicy mouthfeel lifted by great acidity and ending on a long finish.


Refosco dal Peduncolo Rosso
100% Refosco from vines planted between 1975 and 1995. After a 20 day maceration-fermentation, the wine is aged one year in a mix of 500 and 700 liter French oak barrels, none new. It spends 6 more months in the bottle before release.
Nose of dark fruits (blackcurrants, blackberries, plums) with notes of spices, leather, vanilla and cocoa.