Pic: On the right, Javier Rodriguez.
Rodríguez Sanzo is a wine company devoted to uniting the most important Designations of Origin of the Spanish wine scene. The wine expert, Javier Rodríguez - the architect of the project - produces high quality wines with an excellent value for money ratio, in collaboration with small growers belonging to some of the most important D.O districts like Rueda, Rioja, Toro, Ribera del Duero, Priorat or Vinos de la Tierra de Castilla y León in Spain and Douro in Portugal. In particular, he is very interested in working with vineyards along the Duero river. In 2007 he began a new venture in Portugal in conjunction with Joao Soares of the winery Messias utilizing the native Portuguese varieties. He is currently working on a project with the Spanish government in conjunction with U.C. Davis to map out the indigenous grape varieties of Spain. One important goal for Javier Rodríguez is to respect and reflect the different characteristics of each of the terroirs.
Farming practices: organic, not certified, with some biodynamic practices. Animal manure for fertilization. Sulfur and copper against fungus. Pheromones and organic spraying against insects.
Sauron Website
Ribera del Duero Roble
100% Tinto Fino from vineyards planted in 1978 in the heart of the Ribera del Duero DO, near Aranda del Duero, at 702 meters high. Cold maceration for 5 days to a week in stainless steel, fermentation started with indigenous yeasts, aged in new American barriques for 4 to 5 months. Production around 100.000 bottles. Bouquet of black fruit, spice and toasty oak notes, well rounded texture with layers of red berry fruit against a background of vanilla and roasted coffee beans. 13.5% alcohol 50,000 bottles produced.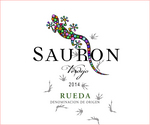 Rueda Verdejo
100% Verdejo.
Soil: sandy with pebbles, which retain heat and improve the maturity of the grapes. The clay subsoil retains moisture during the Summer.
The vineyards of Rueda are located at an altitude ranging between 700 and 850 metres. They are protected by the fertile Duero river. The area is under the influence of extremely long, cool winters, short springs and very hot summers. The great amplitude between day and night temperatures during the Summer is the key to the balance between sugar and acid in the wines.
Cold-maceration at 50F for 4 hours before pressing.
Floral aromas with a hint of fennel, and tropical fruits in the background. 100,000 bottles produced.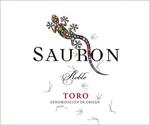 Toro Roble
100% Tinta de Toro.
The climate of the Toro area is continental with Atlantic influences, and extremely arid. Moderate precipitation (350-400 mm annually) and an annual average temperature of 55.4F. There are large temperature swings (from 12F to 99F) and up to 3,000 hours of sun on a yearly basis. The brown and calcareous soil was formed in the Cenozoic. It is made up of sandstones, clay and rocks. The vineyards are at an altitude ranging from 620 to 750 metres. Their great location allows to grow grapes of exceptional quality, amongst which the native grape variety "Tinta de Toro" stands up. The vines are 15 to 30 year old.
Cold maceration for at least 4 days before fermentation. The wine is pumped over during the fermentation in order to acquire optimal fruit and color levels. After pressing, the wine is micro-oxygenated. It rests in tanks during the winter and is transferred into barrels (new, 1 year and 2 year old) that have special incisions, which increase the contact area by 75%. The wine is bottled after 6 months of aging.
Delicious red fruits dominate, with hints of vanilla. Elegant, fleshy and balanced on the palate, with fine tannins and fresh, juicy fruit. 100,000 bottles produced.