Château Plaisance >
South-West
>
France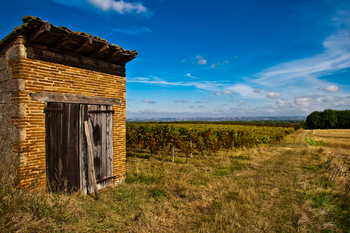 Since the 1870's, the Pénavayre's have been growing vines in Vacquiers, dividing their time between winemaking, livestock and fruit trees. In 1991, Marc Penavayre, oenologist and graduate of the ENITA agricultural engineering school, took over after his father Louis. He expanded the family domaine from 7 to 30 hectares, planted with Negrette (60%), Syrah (25%), Cabernet Franc (5%), Cabernet Sauvignon (5%) and Gamay (5%). The estate's wines are fine ambassadors for the Negrette variety.
Negrette is thought to have originated in Iraq. Today, it is found in the Tarn Valley—which covers the Gaillac and Fronton appellations—where it has been grown for over 2,000 years. Texts from the 6th century mention a dark grape called the Mavro ('black' in Greek) cultivated in the region. Much later, in the 12th century, records exist of a variety called 'Negret'. In time, the Negrette took root in the départements of Haute-Garonne and Tarn-et-Garonne. It is also found in Charentes, Vendée and on the Ile de Ré, where it is called the 'Ragoûtant' or 'Petit Noir'. Several wineries cultivate the Negrette in California, where it is sometimes called 'Pinot Saint George' or 'California Pinot Noir'.
The Negrette breaks bud early, has lots of color and is not very acidic. It gives a very broad palette of aromas including violet, black fruit and liquorice. Depending on the terroir and viticultural methods used, it produces supple, fruity, easy-drinking wines or very powerful, full-bodied, well-balanced wines.
Viticulture/vinification: The vineyards are on old, highly eroded alluvial terraces of the Tarn at an elevation of 220 metres, lying atop the limestone and clay basement of the south-west basin. The alluvial layer of stones, sand and silt varies in thickness with the elevation and slope. The vines thus penetrate the clay bed to different depths, producing a range of well-differentiated wines marked by their terroir.
Château Plaisance is certified organic since 2011. The vines are worked in harmony with the terroir, eschewing fertilizers or weedkillers in favor of natural products. Grapes are harvested ripe and healthy, then hand-sorted before vinification, which is geared to expressing the essence of grape and soil, using only native wild yeasts. The wines are neither fined nor filtered. The wines are vegan.
Château Plaisance Website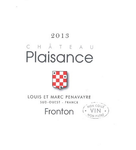 Fronton Rosé
80% Negrette, 20% Gamay.
The wine is fermented in stainless steel vats water-cooled by an innovative spray-and-trickle-down system using hessian jackets. The Negrette and Gamay are vinified separately on light lees before blending and bottling in February.
Beautiful light coral pink color, expressive nose of red fruits, white flowers and spices, round and lively on the palate.
1250 cases produced.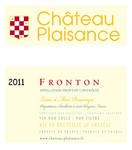 Fronton Rouge
68% Negrette, 22% Syrah, 10% Cabernet Franc.
The Negrette, Syrah and Cabernet Franc are vinified separately before blending. The wine is then aged for 12 to 18 months, during which it is racked three times, and bottled between September and March. A very aromatic, well-balanced wine expressing the Negrette's full palette of spice and liquorice aromas. Flavoursome in the mouth and intensely drinkable.



Tot Cò Que Cal
"Tot Cò Que Cal" can be loosely translated to "That's all you need". 70% Negrette, 30% Syrah - From vines planted on the highest terrace of the Tarn, at 200 meters elevation. Aged for 16 months in 300 and 400 liters barrels, 20% new oak. 416 cases.