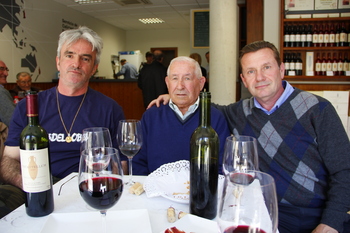 Pic: Winemaker Carmelo Vergara Aldabalde, agronomist-vineyard management Francisco Suñen Begueria and owner/manager Jose Puig Berenguer.
Bodegas Uncastellum was founded in 1999 on the sides of the hill top ancient town of Uncastillo in Aragon, southeast of Rioja and Navarra, near the Pyrenees, by the Ribera del Gállego. The county, Las Cinco Villas, is an interesting area that offers perfect conditions for grape growing. The estate is 26 hectares at 725-850 meters of altitude, with dramatic difference in temperature between day and night and between Winter and Summer seasons. The soil in their "pago" is essentialy sandstone-calcareous, rich in tree (oak) cover, which combined with the average rainfall of 550-600 mm and the high altitude of the vineyards in south-east oriented hillsides, gives optimal conditions for the cultivation of healthy grapes providing great intensity of color, aromatics and flavor. The estate is run by José Puig.
Farming practices: The vineyards are densely planted and cultivated biodynamically with organic certification by ECOCERT, U.S.D.A., N.O.P. and C.A.A.E.
Uncastellum Website

Ribera del Gallego Rosado
70% Garnacha, 30% Tempranillo.
The 2015 Uncastellum Rosado is made from biodynamically farmed, old vine Garnacha and Tempranillo. A major part of the wine is made by crushing the grapes at cool temperatures and leaving the skins in contact, with the balance being made by saignée. This tiny appellation is close to 3000 feet in elevation with sandstone/ calcareous soils; ideal wine growing country southeast of Rioja. It has a bright, medium pink-colored hue with a rich perfume of cherry blossoms and rose petal. Certified Organic.



Floral de Uncastellum Tinto
60% Tempranillo, 40% Garnacha from organic grapes hand-harvested in 18 kilogram boxes.Yields: 45Hl/Ha
12 days maceration, then fermentation at a temperature of 22 to 24 degrees Celsius.Unoaked.
5000 cases made.
13.5% Alcohol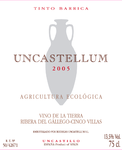 Ribera del Gallego Tinto Barrica
47% Tempranillo, 33% old vine Garnacha, 14% Merlot and 6% Cabernet Sauvignon.
Following an extended 2 ½ week maceration, it is aged for nine months in American and French barriques, one third new. 2000 cases made. Dark, almost opaque purple color, notes of Asian spices and assorted red fruits. Medium to full-bodied, chewy and dense with a mineral, almost savory finish.