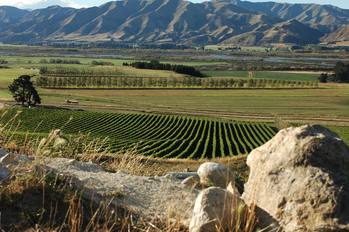 In 1852 William Ostler emigrated from Yorkshire to New Zealand to manage Benmore Station near Omarama for Robert Campbell. In 1998, unaware of this history, Ostler's great grandson Jim Jerram and his brother-in-law, winemaker and viticulturist Jeff Sinnott, went prospecting for suitable grape-growing country in the lower Waitaki's limestone country, inland from Oamaru. At that time there was no history of commercial winegrowing in the region. The two discovered a site Sinnott believed encapsulated the essential parameters for growing premium cool climate wine grapes; a north-facing limestone-influenced slope on an escarpment overlooking the braided river. It reminded him of the famous slopes of Burgundy.
After a period of climatic data collection and planning, Jim and his wife Anne bought the bare land and decided to plant a small 2 Ha pinot noir vineyard in the spirit of William Ostler's own pioneering venture. The new venture commenced in 2002 and was in effect experimental, with Jeff Sinnott as partner and viticultural advisor and future winemaker. After a completely successful first planting, a small company was formed between the partnership and other family members and friends. Further plantings of Pinot Noir and Pinot Gris took place over two years.
In 2004 a small first harvest of beautifully ripe Pinot Noir grapes became, with Jeff's winemaking expertise, the first Ostler vintage of their premium Caroline's Pinot Noir. Despite the young vine age, it was clear that the vines had already picked up unique flavours from the underlying limestone. The velvety tannins, extraordinary persistence of flavour, and complex nose of this wine had clearly justified the experiment beyond expectation. Further vintages have confirmed the major difference in style this vineyard produces compared with other regions. In addition the first vintage of Pinot Gris in 2006 (Audrey's Pinot Gris) demonstrated the effect of the same benefit of the terroir on this delicate aromatic white variety. Accolade-earning vintages have followed. Ostler total production is now 3000 to 4000 cases.
In 2008 a new vineyard site, 'Lemon Springs' was developed by Paul Sinnott for the production of Riesling and other aromatic whites at Lake Waitaki, 24 km further inland. On alluvial gravels this warmer site is seen as ideal for these varieties. Initial harvests from this special site have produced spectacular results with our 'Lakeside Vines' labels.
Finally, they chose Rob and Pam Crosbie as the required fastidious growers for their 'Grower Selection' wines. Their 4 Ha on Grant's Road, mid-way between Clos Ostler and Lake Waitaki, consistently produces high qualiy Riesling, Pinot Gris and Pinot Noir under the 'Blue House Vines' labels.
Waitaki valley
New Zealand's newest wine region, the Waitaki Valley straddles the boundary between the North Otago and Canterbury provinces. The area was first planted in 2001 and the vineyards are mostly small, intensively managed and produce a range of distinctive cool climate wines. Most of the vineyards are within 20km of Kurow, some 65km from the East Coast.
The key viticultural characteristics of the valley are its cool climate, with warm summers and long, usually dry (annual average of rain is 17 inches), autumn seasons, and its complex geological origins with limestone, alluvial greywacke and schist being found in close proximity at different sites.
The resultant wines demonstrate a distinctive minerality and complexity of fruit flavours. These wines frequently possess a notable lingering finish on the palate in addition to fragrant aromatics. It is believed that this results from a combination of the long slow fruit ripening and the substrata beneath the loess-based soil.
Two hours over the ranges from Central Otago, and four hours south of North Canterbury, the Waitaki's wines are distinctly different from its neighbouring regions.
Notable varieties produced are Pinot Noir, Pinot Gris, Riesling and Gewürtztraminer, with a small quantity of Arneis. Well known producers from around New Zealand also source fruit from the Waitaki for vineyard-specific labels.
Farming practices: Sustainable. Ostler is a certified and audited member of Sustainable Wine-growing New Zealand. That means they follow the prescribed limitations of that internationally respected regulatory body for all horticultural sprays, fertilizers, water use, labour and safety. In fact their practice is mostly traditional Burgundian viticulture, plus they try to keep their spray use to the minimum - much less than the limits in the SWNZ program. At times they are virtually organic, and it would be fair to say they aspire to continue that trend. However they are also pragmatists, and will do what is required to ensure the security of their precious crop should environmental conditions threaten!
In practice this has meant that most antifungal sprays are colloidal sulphur; seaweed and epsom salts are used for nutrition, and in recent seasons they have hardly needed irrigation.
Ostler Website

Blue House Vines - Riesling
The 3rd vintage of this wonderful crisp cool climate aromatic. Carefully produced fruit from Rob and Pam Crosbie's Vineyard in the Waitaki Valley (6 miles away from Clos Ostler) has resulted in a taut, dry style, with enhanced aromatics plus a beautifully structured backbone of balanced acidity. Clean and fresh, beautiful with whitebait, scallops of other light seafood.
In Rob & Pam Crosbie's Riesling vineyard the 2010 harvest was late, very late. In fact they wondered if they would ever pick this wine at all! Protracted cool, clear autumn weather slowed respiration rates to a crawl and the vines seems to reach a kind of stasis in terms of ripening. But eventually, the grapes were ready, picked, and taken to the winery. There, they were whole bunch pressed, cold settled, racked and then cool fermented in tank until the team was happy with the balance. In this vintage they knew the flavours would be a bit more fragile so they deliberately left the alcohol a little lower and the residual sugar a smidge higher than previous years. And the wine? The aromatics are typical Blue House: green apple, lemon & limes with the same mineral trace as before. Balanced acidity ensures good structure while very fine phenolics give the wine grain & texture. The flavours are refined in the citrus/apple spectrum with a lovely crisp mouth feel. They expect significant cellaring potential.
10.8% Alcohol, Residual sugar 9.6g/L, titratable Acidity 8.5g/L. 340 cases made.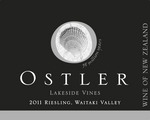 Lakeside Vines - Riesling
Paul Sinnott's Lakeside Vineyard, from vines on alluvial greywacke, mid-­Waitaki. Handpicked, whole-­bunch pressed and cool fermented in tank down to 12.2% alcohol. A cracking first vintage from this special vineyard above Lake Waitaki. Palest straw green in colour; aromatically showing lemons, limes, white flowers and lovely underlying minerality, reminiscent of rainfalling on hot river stones. The palate is full bodied; classified 'medium-­dry". Fresh flavours of citrus with well-­balanced acid structure. Drinking well now and should reward some years of cellaring. RS: 10.6 g/l; Alcohol: 12.2%. 240 cases made.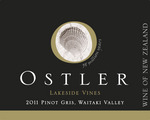 Lakeside Vines - Pinot Gris
The first Vintage of Pinot Gris at Lake Waitaki was a stunner. From an Alsace clone new to New Zealand it is a rich off-dry Alsace style. The fruit reached 27 brix before we were happy with flavour ripeness, so the wine has a Residual Sugar of 14 as well as an alcohol of 14%. Textural, with good acidity, this is a satisfying wine which goes very well with spicy, Asian dishes.
"When we planted the 'Lemon Springs' site at Lake Waitaki the choice of what to plant was obvious. What we weren't prepared for was just how good this clone might be. The buds burst early; it is moderately but not overly vigorous, flowers very uniformly and ripens extremely well with sufficient sugar, acidity & extract. The bunches are small and the berries tiny, precisely what we are looking for to make wine from this special site. The fruit was hand-picked & whole bunch pressed with the pressings fined & blended back in. The juice was wild fermented in tank, 'raised' on lees for an extended period to allow the wine to harmonise and was bottled in mid-summer 2012.
The colour is a full straw/green. The nose is quite opulent with rich stone fruit, spice and a concentrated fruit note some Aussies may describe as raisin toast. The palate is similarly concentrated with rich, ripe, sweet fruit overlaying a doughy, nougat like texture. The acidity holds the not inconsiderable extract in check so the wine appears neither taut nor cloying. Well managed phenolics add a further textural dimension to what we can only say is our finest Alsatian style of Pinot Gris yet. This is an extraordinary wine from an exceptional site."
Alcohol 14.0%. 380 cases made.



Audrey's Pinot Gris
This is Ostler's signature 'Clos Ostler' Vineyard, from vines grown on soils under-­pinned with solid limestone and marl. Classic Audrey's -­ "The Chardonnay-­drinker's Pinot Gris in a Burgundian style" signature. The regional signature is there – savory quince with an exotic twist of white flowers – under laid by more complex aromatics from wild yeast fermentation in old demi-­muid barrels. A medium palate weight balanced by an indefinable chalkiness -­ the hallmark of great white wines grown on limestone. RS: 5.2 G/L , 12.5% Alcohol. 680 cases made.



Caroline's Pinot Noir
A 'small berry' warm year in the Waitaki with resultant rich, almost syrah-like intensity of ripe dark summer fruit. The usual Caroline's spices and lengthy finish complement a pinot noir of substance and weight.
Caroline Plummer was an extraordinary vital young woman of great energy, beauty and elegance. Her passion was the study of dance and its healing values. She assisted in planting of the original block - Caroline's. In 2003 before her untimely death from a rare malignancy she gave her name to the first Pinot Noir. Caroline's Pinot Noir has become Ostler's flagship wine. It is made in the years when the season allows grapes which meet their rigorous quality standards.
Winemaker Jeff Sinnott's Comments:
2009 Vintage -"Purple coloured with Crimson hues brooding aromas of dark berries, undergrowth and spice. a beautifully textural palate displaying classic layering of brambly fruit , exotic spice and seriously ripe, powdery tannins bal;anced by a good acid spine. Described by one of the world's foremost Burgundy pundits as a serious wine driven by terroir as much as fruit. This is not a wine for the faint-hearted and is a testament to the skill and expertise of the vineyard crew who made it possible. It brought a tear to my glass eye, sipping a barrel sample of this while watching a preview of Nikki Caro's "The Vintner's Luck". This could well be our 1812. I'll drink to that."
Alcohol 14.1% Residual Sugar <1g/L Titratable acidity 5.5. 980 cases made.