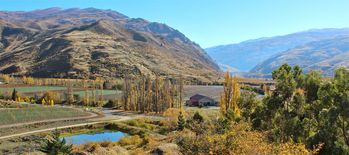 Terra Sancta is a small, beautiful vineyard, located on Felton Road, Bannockburn, Central Otago. Mark Weldon and Sarah Eliott, the owners, together with the winemakers, Jen Parr and Jody Pagey, the viticulturist, Len Ibbotson, and the head of customer relations, Smithy, have a focus not just about making thrilling and memorable wine, but on providing people great experiences. Wine is a part of life, not separate from it. Terra Sancta means "sacred earth", or, in modern Kiwi, "special dirt". The famed Bannockburn region has long been viewed as very special earth. First by the miners who sluiced the hills in their search for gold, and now by wine makers and wine drinkers, who believe that the earth of Bannockburn produces some of the best Pinot Noir in the world. Tucked safely on a thin tendril of land between the old gold mining hills and ruins behind, and the edges of the brilliant glacial blue of the Kawerau River in front, the Terra Sancta wines come from a spectacular place. The estate comprises two main areas, the part that borders the river, called Terra, and the part that runs along Felton Road, named Sancta.
The schist gravels and the wild thyme with its throw of perfume, create a unique experience of this particular place. Located on Felton Road, the Terra Sancta estate contains the first vines planted in Bannockburn, and indeed in the entire Wanaka-Cromwell-Bendigo region. The vineyard has over 6,000 trees and is alive with bees and butterflies, while the earth is covered with the wild thyme that grows so uniquely in the area.
The vision of the estate is to produce beautiful wines for generations. The first vintage was 2012 (from vines planted in 1991). Terra Sancta has three categories of wines: Single Block wines, made only of Pinot Noir, and a truly distinctive expression of the particular blocks from which they emanate; an Estate range of wines made from the Terra Sancta estate; and the delicious, earlier drinking, superb quality Mysterious Diggings range. All wines are handcrafted, and consistently recognised as distinctive. The Pinot Noirs, in particular, have won multiple awards, and consistently rate amongst the best New Zealand wines.
Terra Vineyard
Terra vineyard sits neatly between two of Mt. Difficulty's exceptional vineyards - Long Gully and Manson's Farm. On the north the vineyard goes to the cliff edge above the Kawareau river. Together with the Sancta Vineyard, Terra Vineyard make up Terra Sancta Estate.
There are two blocks on the Vineyard - Shingle Beach, which sits right above a historic beach on which gold panning was so successful in the mid 1800's, and [Andrus Block]. The vineyard was originally planted by the pioneering Oregon vintner Gary Andrus, who planted the block, in his search for the New World holy grail of Pinot Noir. Taking a maverick approach, Gary planted the 2.6 hectare Shingle Beach block in traditional burgundy style. Along with the tiny and high quality Georgetown vineyard, this is the only Burgundian style planting in Central Otago. The winery is still learning how the vine types, the river breeze, the sand and schist dense soils, and the planting patterns combine. One of the most exciting things about the decades to come is how the wines from this block will evolve.
Sancta Vineyard
The Sancta vineyard is a gently sloping, north facing vineyard, running down from the hills behind toward the Kawerau river in front. The vineyard's slope varies across Sancta, but it averages around 4%, with some steeper parts. Together with the Terra Vineyard, the Sancta Vineyard make up Terra Sancta Estate.
Detailed analysis of Sancta vineyard shows that it has a very high percentage of schist in the soil. The presence of such high degrees of schist facilitates excellent drainage. At deeper levels of the vineyard, samples show that schist gravels make up about 75% of the soil profile, with the remainder being loam and clay. This unique soil makeup is crucial in driving the flavors that define Terra Sancta's wines. Some of the oldest vines, such as on Slapjack Block, seem to have got their roots so deep that they do not need irrigation, even during the dryest periods. The vines on the Sancta vineyard are ungrafted, except for the youngest ones.
Diggins Vineyard
On the Cainmuir side of Bannockburn, the Diggings vineyard is planted on a high, rocky outcrop and is one of the highest vineyards in Bannockburn. The vineyard's slope varies across Sancta, but is estimated at around 10%. The vines on the Diggins vineyard are ungrafted.
The Diggings looks down and across the river behind Cornish Point. With its higher elevation than the estate, and with soils characterized by relatively more gravels and sandy loam than Terra and Sancta, the Diggings produces wines of a more delicate weight, and are therefore accessible earlier. The fruit from the Diggings Vineyard goes entirely into the Mysterious Diggings Pinot Noir.
Farming practices: organic
Terra Sancta Website

Mysterious Diggings Pinot Noir
98.5% Pinot Noir, 1.5% Pinot Gris (field blend - the PG is mutating back to Pinot Noir).
An early map by a resident of Bannockburn gave a small parcel of land the name 'Mysterious Diggings'. A vineyard of extreme beauty, high in the hills, the Diggings vineyard has sun-drenched, rocky terraces with soils heavy in native schist. The fragrance and dark cherry flavors of the Diggings Pinot Noir are created by these unique vineyard soils.
The grapes were fermented (with a majority of native yeasts) with 5% as whole cluster at a relatively cool temperature with 18 days total time on the skins. The pressed wine was settled over night then racked to age in older French oak barriques (most of them 4 year old, a little of 3 year old and 2 year old) for texture. Coarse filtered.
This delicious Pinot Noir is both very approachable and very sophisticated. The vibrant wine has a bright garnet colour with blackberries, lavender and wild thyme on the nose. The palate is beautifully layered with forest fruit flavours, silky tannins and vibrant acidity. It is long and luxurious in the mouth and perfect both as a wine for its own sake, and with a wide spectrum of foods - pork , salmon, venison as well as those essentials of life always made better by Pinot Noir - pizza and pasta. 14.3% Alcohol, 3300 cases produced in 2012.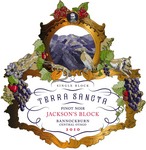 Jackson Pinot Noir
Named after the august ratbag on the label, Jackson Barry, ranged the area telling yarns and seeking fame and fortune. The hallmarks of Jackson's Block are perfume, elegance, and balance. The perfume is that of violets and the wild thyme of the estate. The flavors are tasty red berries, and the length and balance are made complete by elegant, silky tannins. Located inside the Sancta Vineyard, Jackson's block 1 and 2 are planted with clone 777, giving the wine memorable perfume and poise. Soil of schist, clay and quartz.
The ferment had 10-25% whole clusters and underwent at least 5 days of cold soak to aid colour and tannin extraction prior to fermentation. After a fermentation of around 10 days, the wine was left on skins for two weeks to aid tannins development. The wine was then gently pressed off skins, settled and racked to fine grain French oak barrels, 38% of which were new. The wine went through malolactic fermentation in spring and was racked just once in late February for blending. This wine was unfined and unfiltered. It is recommended to decant it before drinking it. 14.2% Alcohol, 350 cases made.