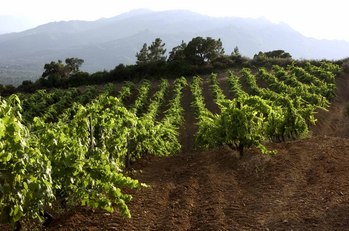 Christian Imbert lived for over 15 years a nomadic existence in Central Africa, where he exported agricultural products, before purchasing in 1964 seventy five hectares of land that would eventually become Domaine de Torraccia. After spending thousand of hours clearing scrub trees and other vegetation off, he planted his first vines: two hectares of Grenache and Syrah, the only varieties that he could purchase in the island's plant nurseries. Wanting to make distinctive wines, he then went on a mission to restore long-forgotten, native grape varieties, which had been mostly pulled out, amongst them Niellucciu (a cousin of Sangiovese that shares the same DNA but very different in character) and Sciaccarellu (which means "crunchy"). In 1971, he created the group UVA Corse, that gathers winemakers sharing his philosophy: use of traditional Corsican grape varieties, respect for the terroir, return to traditional grape growing and winemaking techniques, and continuous effort to produce high-quality, authentic Corsican wines. In 2008, his son Marc, who worked many years in Monterey and Napa, took over the domaine, which now has 43 hectares of vineyards (350 metres above sea level, mostly granitic soils with some schist) and 25 hectares of olive trees. AOC Porto Vecchio is a small appellation South East of the island, with only 4 producers.
Farming practices: certified organic since 2000. The only treatment used is bouillie bordelaise for controlling mildew. The vineyards are hand harvested. The harvest spreads over a month, starting -depending on the vintages- the last week of August or the first week of September.
Vinification: none of Christian's wines, reds or whites, are aged in oak barrels, as Christian considers the addition of oak to be uncharacteristic of traditional Corsican wine. The winery is mostly equipped with cement tanks (80%), the rest being stainless steel tanks. Only indigenous yeasts are used.
Domaine de Torraccia Website

Porto Vecchio Blanc
100% Vermentinu (also called Malvasia in Corsica) from 50 year old vineyards.
Vermentino can have very different expressions, which depending on the terroir, verge towards Viognier, Sauvignon Blanc or some Jura wines. it is a variety well adapted to Corsica, where cooler temperatures during the night help the grapes maintain a good acidity. In 2008, Marc Imbert discovered by accident that increased bâtonnage initially imparts the wine with bitterness, but that it makes after 5 to 6 months for wines that are more complex and structured, while the bitter element fades away. While Domaine de Torracia makes another cuvée that can age for up to 7 years, the Porto Vecchio is made to be drunk young.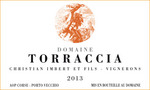 Porto Vecchio Rosé
50% Niellucciu, 20% Cinsault, 20% Grenache, 10% Sciaccarellu - 50 year old vineyards. Selected in Corsica, the Grenache brings smoothness to the blend, while the Cinsault (selected in France) contributes to lower the alcohol percentage.
Destemmed. The must is fermented using only indigenous yeasts, at temperatures between 66F and 70F, then settled and aged in vat before bottling.
A combination of direct pressing and saignée gives a wine with a pale, salmon-pink color and vivid, fresh aromas of flowers, soft spices, and red fruits. A delicious, flavorful, and juicy rosé that is enjoyable from the creation of the meal to the last course.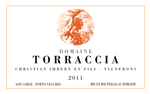 Porto Vecchio Rouge
50% Niellucciu, 30% Grenache, 10% Sciaccarellu, 10% Syrah.- 50 year old vineyards, flinty soil.
All destemmed, co-fermentation between on one side the Niellucciu and Sciaccarellu, on the other the Grenache and Syrah, at temperatures between 79F and 86F. Aged on the lees in buried concrete tanks. Made in a reductive manner to protect the Niellucciu, that otherwise would drop quickly after 4 to 5 years. Filtered.
A distinctly-perfumed, medium-bodied red that can be aged for up to 15 years. The wine shows minerality and smokey flavors. Serve fresh, at 55-56F.



Oriu red
80% Niellucciu, 20% Sciaccarellu - selection both in the vineyards for the best parcels and in the winery of the best cuves. Aged in cuves for 18 months.
The first Oriu vintage was in 1970. Oriu means cache or stash in Corsican, a reference to the longstanding practice by the island's infamous bandits of hiding money and arms in mountain caves. Oriu can be stashed away and aged for many years, 10-15+.