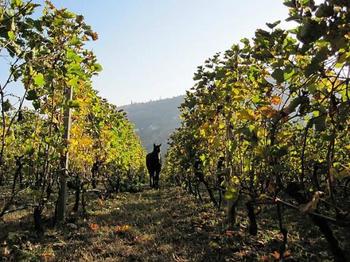 The Dalamara's family winery is located at the entrance of Naoussa (Central Macedonia, Northern Greece), with 5.3 hectare of vineyards on the eastern foothills of the Vermio mountains. The owner, Kostis Dalamara, is continuing a tradition of five generations, which began in 1840 when the family started to produce wine and tsipouro. He studied enology in Beaune and worked in Gevrey-Chambertin, Alsace, Roussillon and Catalonia, Spain. A new building has been constructed next to the traditional winery, with the tsipouro distillery, to house the winemaking facilities. The total production is 25,000 bottles.
Farming practices: the Paliokalias vineyard has been certified organic since 1996.
Vinification: the wines use minimal intervention and are made with indigenous yeast. They are un-fined and un-filtered.
Dalamara winery Website

Paliokalias - PDO Naoussa
In 1971, Naoussa was accorded PDO status (Protected Designation of Origin), the country's first appellation.
100% Xinomavro from a traditional vineyard area called Paliokalias (meaning "Old Watch Point"), 2.5 miles South-East of the town of Naoussa, at an altitude of 250-300 m. It is characterized by deep groundwater and the lower part of the youngest section of the vineyard is crossed by a small river with a stable water flow. The climate of this area features warm, dry summers and mild winters. For most of the day, the vines fully benefit from the sun.
Paliokalias is a more traditional style of Xinomavro. The only intervention that is done is the addition of a very small amount of sulfur dioxide. No yeasts, no enzymes, no filtration, no clarification etc. Aged in oak barrels for 12 months. 2011 was the first vintage made entirely by Kostis Dalamara.
High acidity, as always in Xinomavro, but it gets more and more balanced as it ages. The tannins are significantly smoother because of the work Kostis did on the selection of the grapes and on their phenolic maturity level. Aromas of blackcurrant, dried plum, with good acidity, elegance and a persistent finish. Since 2005, Paliokalias is not filtered so a small amount of sediment at the bottom of the bottle is normal. It is recommended to decant the wine for a few hours before serving it. 800 cases made.