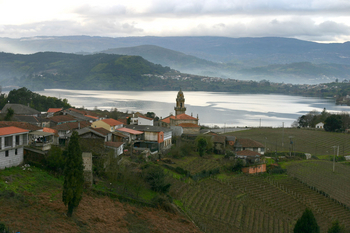 "Francisco Fernández Sousa" was born as a winery in 1956. This antique brand has known how to adapt to the demands of modern times, bringing together modern technologies, as controlled fermentation, preservation in stainless steel tanks, automatic bottling, and the countryman wisdom handed down from one generation to the next.
The production is exclusively white wine. The winery is focused on quality, not quantity, and that is the reason for their very small production (2500 cases spread amongst two wines, the Terra Minei and the Lagar do Brais, a blend of Treixadura, Torrontes and Palomino). Most of the wine is obtained from the harvest of estate vineyards, grown in the civil parish of Prado de Miño. Old vines, use of traditional growing methods and modern technology combine to produce high quality wines. The winemaker, Jose Manuel Martinez Juste, is the president of the Winemaking Association in Galicia. He was born in Ribadavia, the capital of Ribeiro wine; he has been consulting for several wineries in diverse appellations: Ribeiro, Rias Baixas, Monterrey, and also in the North of Portugal. He coordinates all his activities from his lab " Catavinos" in Ribadavia.
Farming/winemaking practices: sustainable. The wines are vegan. 
The River Miño, and its tributary, the Avia, delimit the fruitful region of the Ribeiro, well known for its famous wines. The civil parish of Prado, in the municipality of Castrelo de Miño, enjoys an excellent soil and a privileged landscape. Temperature (mild in the winter) and humidity (due to rains and the river fogs) are perfect and provide a generous harvest. The number of harvesters ("colleiteiros") is fairly high for such a small area. The D.O. Ribeiro was created in 1957.
Terra MInei Website

Ribeiro
100% Treixadura. Considered one of the best white wine grapes of Spain, Treixadura is often found in blended wines so it is something special to have this 100% varietal. Ribeiro is a tiny appellation in northwestern Spain where this grape thrives.
Aged on the lees in stainless steel tanks. Intense aromas of white flowers and stone fruit (peach, pear), mineral notes, well structured with a fine and persistent finish. 1250 cases produced.