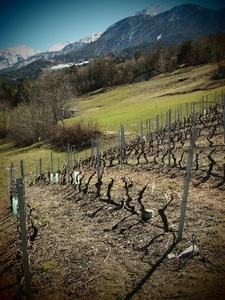 Diego Curtaz took over the family company from his grandfather in 1981. He owns 1 hectare of vines, divided in three separate plots. They are on northern exposure lower slopes (10% to 25% slope), with stony and loamy soil, up to 650 to 750 meters above sea level. Diego also cultivates 1.5 ha of apple and pear orchards. His total production is tiny, under 600 cases.
Vinification: the grapes are completely destemmed. After about 24 hours, fermentation begins in an open vat; a partial remontage is executed twice a day. After 10 days, the wine is racked and placed in botti of fiberglass and stainless steel, in which it remains at a constant temperature of 68F until the malolactic fermentation begins. The wine is decanted and left to rest until Easter, at a temperature of about 50F. It is bottled after a light filtration through cardboard and spends a couple more months in bottle before being released early June. Being "bacteriologically" alive even six months after bottling, it is recommended to decant it for half an hour before serving.
Farming/vinification practices: organic, non-certified.The wines are vegan - animal derivatives are never used.
Diego Curtaz Website

Di Meun
50% Petit Rouge, 20% Vuillermin, 15% Fumin, 15% Cornalin.
12.5% Alcohol. 118 cases produced.



Di Noutro
95% Chardonnay (with a little Chardonnay Musqué, a mutation of Chardonnay first observed in Pouilly-Fuissé and Arbois), 5% Moscato.
Only 91 cases produced.


Torrette
Vallée d'Aoste DOP. 75% Petit Rouge, 5% Mayolet, 10% Vien de Nus, 10% Premetta.
Ruby red with violet hues. Intense and persistent notes of wild rose, violet and almond. Dry and velvety on the palate with a long finish. 208 cases produced.


Gamay
91 cases produced.