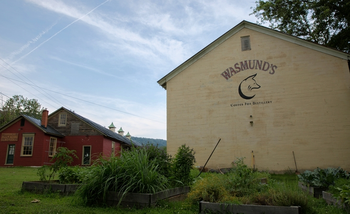 Copper Fox Distillery was formed in January of 2000 by Rick Wasmund. The operation is based in Sperryville, Virginia. The revelation of a distinct and wonderful single malt whisky using fruitwood smoke came to Rick in years prior after visiting a slew of American micro- distilleries. By spring of 2000, Rick made the journey to Scotland to visit several distilleries. He came away with an offer to intern at Bowmore Distillery on Islay, one of the few distilleries in the world that still malts their own barley. Three years later, Copper Fox Whisky was launched into the marketplace as the first apple and cherry wood smoked whisky in the world. These distinct whiskies focus on the time honored, but currently rare hand malting process, using the smoke of smoldering fruitwoods during malting. There are three products, which are all based on grains from a local farm on the northern neck of Virginia between the Potomac and Rappahannock rivers.
Copper Fox Website

Wasmund's Single Malt Whisky
The barley is hand malted on the floor of a custom malting room at the distillery, a unique element of these whiskies. Cherry and apple wood are used in place of peat to smoke the malted barley creating a truly distinct American whisky. Double distillation is the method of choice. Aging (18 months) is accomplished in bourbon barrels with toasted fruitwood chunks placed inside creating sublime layers of smoke along with the subtle influence of bourbon barrel aging, a technique favored in Scotland. The barley mash is then sent to a local cattle farm for consumption by some very happy cows! Notes of cherry fruit, vanilla, sherry, caramel, cinnamon, cloves and hardwood smoke. Best enjoyed neat or with a splash of quality spring water. Also great in a Rob Roy and other classic cocktails! 96 proof (48% alcohol).
93 points-Beverage Testing Institute



Copper Fox Rye Whisky
Copper Fox Rye Whisky is based on two thirds rye and one third hand malted barley that have been smoked over smoldering apple and cherry wood and twice distilled. Aging (19 months) is also in used bourbon barrels with toasted fruitwood chunks placed inside the barrels. A subtle smoke influence is picked up by the toasted wood and smoked barley malt, though not as smoky in general as the Wasmund's Single Malt. This whisky is non-cold chill filtered. Notes of earth, spice, buttered biscuits; figs and caramel balance the smoky qualities in a tasteful way. Enjoy neat or in a classic cocktail such as an Arnaud's Special. 90 proof (45% alcohol).
94 points-Beverage Testing Institute



Copper Fox VirGin
Hand malted barley distillate makes for a great sipper; Vir-Gin has a Dutch influence with a chewy round mouthfeel. A blend of juniper, orange peel, lime peel, cardamom, chamomile, coriander, black pepper, angelica root and star anise are steeped in the malt distillate for three days then placed on a small custom copper table that fits inside the still. This is topped with fresh herbs and botanicals grown on the Copper Fox property including celery, borage, lemon grass, fresh chamomile, lemon balm, mint and anise hyssop, sometimes fresh spring apple blossoms, and other seasonal botanicals. This combination is then distilled in a run lasting 6 hours. The gin is made mainly in the spring and summer. After the run, leftover botanicals are composted. Each batch is named in chronological order after James Bond movies. Enjoy on the rocks with a lime twist or in any creative gin cocktail.