Billsboro >
Finger Lakes
>
USA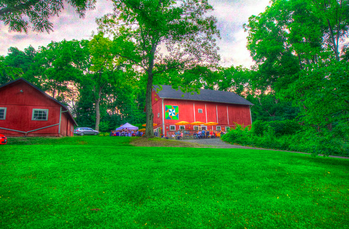 Billsboro's Tasting Room is housed in a restored 19th century barn overlooking the northern tip of Seneca Lake, in the Finger Lakes region of New York. It is surrounded by century old walnut trees, terraced fields and a deep wooded ravine. Owners Vinny and Kim Aliperti established the winery with the intent to focus on vineyard designated micro-lots of Riesling, Sauvignon Blanc, Pinot Noir and Cabernet Franc. Their main source are the south-west facing, shale infused hillsides of Sawmill Creek Vineyards, a location considered among the most exceptional on Seneca Lake, with excellent drainage and number of growing degree days. As a result, the wines express a cool-climate sensibility of balance and grace.
Vinny started his winemaking journey as a teenager, vinifying each fall a barrel or two of wine with his grandfather. After graduating college and a stint in the Peace Corps (where he met Kim), an opportunity arose to pursue commercial winemaking on his native Long Island. From 1997 to 1999, Vinny apprenticed under European-trained winemaker Roman Roth. In 2000, Vinny and Kim moved their young family to the Finger Lakes, where Vinny was hired as Assistant Winemaker by the acclaimed Riesling pioneer Hermann J. Wiemer. Just a year later, Atwater Estate Vineyards lured him over to the east side of Seneca Lake, in the revered "banana belt". Since 2003, Vinny has been the head of winemaking and oversaw the expansion of vinifera plantings on the estate. Billsboro is his personal project, that he started in 2007. Today, Vinny processes both domaines under one roof, strategically located within a mile of both Sawmill Creek and Atwater Vineyards.
Vintage notes - 2013: Although winter 2013 was relatively mild, a cool spring kept bud break in check, allowing for little spring frost damage. As the season progressed, weather conditions were fairly normal. Rainfall and humidity were slightly above average in June and July, which did setup some early disease pressure in Pinot Gris and Pinot Noir. But as luck would have it, September and October were drier than normal, allowing the grapes to hang on and ripen to full maturity. Harvest picking dates were closer to the long-term average, with a total growing degree days (GDD) accumulation of 2866 at the Lodi weather station.
Vintage notes - 2014: The growing degree days for the season (2456) were in line with the long-term average of a typical vintage in the Finger Lakes. 2014 started off with a cool spring, thus holding bud break back until early May. The summer had some warm stretches but was mostly cool with lower humidity than in recent summers. July was wetter than normal but most importantly, August through October saw below average rainfall with many dry, sunny days. The lower disease pressure throughout harvest allowed the grapes time to catch up and finish maturing before the first frost.
Vintage notes - 2015: The year started off with a major chill across the Finger Lakes, shattering the record for the coldest February in Central NY. Fortunately, Sawmill Creek Vineyards saw only minimal damage, even in tender varieties like Pinot Gris and Pinot Noir. Following a cool Spring, May through July were humid and featured many torrential downpours. Mercifully the weather dried out in September and provided above average temperatures, which allowed the grapes to ripen and maintain excellent integrity. October also saw below average rainfall thus allowing late ripening varieties the opportunity to mature unencumbered by disease pressure. Bottom line: after a dubious start, the 2015 harvest was among the most cooperative in recent years.
Vintage notes - 2016 : After a couple of tough winters, 2016 was a welcome relief. Though there were a few abnormally cold nights, only minimal winter damage was incurred. The spring was relatively dry and uneventful thus allowing bud break to proceed with little threat of frost damage. As summer took hold so did drought conditions, from April to September the region saw only a fraction of its normal rainfall. The dry weather and record breaking heat accelerated ripening which set the stage for a compact and hectic harvest schedule. In the end, the yields were solid, the fruit was clean and concentrated and the harvest crew exhausted.
Farming practices: sustainable.
"As the proud 6th generation owners of the family farm, the goal is to strive for quality production in the vineyards, using sustainable viticultural practices. This means using environmentally and economically sound practices ensuring the health of our family farm for generations to come." Tina Hazlitt, proprietor of Sawmill Mill Vineyards (from which Billsboro sources its grapes).
The wines are vegan.
Billsboro Website

Rose of Pinot Noir
The 2016 Rose of Pinot was hand-picked mid September from the slate infused hillsides of Sawmill Creek Vineyards. This southwest facing slope is revered among winemakers in the Finger Lakes. The grapes were crushed and cold-soaked under a blanket of dry ice for 6 hours, then pressed. Fermented in stainless steel and racked in November. No malolactic fermentation. Onion skin hues, strawberry, forest floor, firm and bright and delicious. 12.7% alcohol. 152 cases made.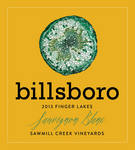 Sauvignon Blanc
100% Sauvignon Blanc. Machine harvested on September 14th at 21 Brix, the grapes were destemmed and gently pressed to only 1 bar of pressure (14 psi). The juice was cold settled overnight, 55% was tank fermented with VIN2000 yeast and 45% was barrel fermented with QA23 yeast in neutral French oak. On September 19th, 1.5g/l tartaric acid was added. On September 27th, the two lots were racked with the lees and blended into a stainless steel tank. Over the winter the wine was cold stabilized and its lees stirred monthly. Pad filtered then bottled on March 28th, 2017.
Crisp and fruit forward this sauvignon blanc bursts with ruby red grapefruit. Notes of lemon zest and peach dance across the palate in this cool climate wine. 12.6% alcohol. 273 cases produced.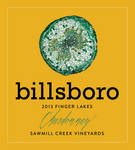 Chardonnay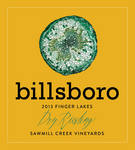 Dry Riesling
Machine harvested on September 23rd at 20.5 Brix, pressed, cold settled, racked and inoculated with W15 yeast. Tank fermented at 59 F to dryness, the wine was racked on November 22 and acidified with .4 g/liter tartaric acid on December 1st. Cold and heat stabilized, filtered and bottled on March 30, 2017. This bone-dry Riesling bursts with aromas of peach, and ripe cherry and zippy lime spread across the palate. A versatile food partner. 12.6% alcohol. 3gr residual sugar. 317 cases produced.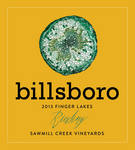 Riesling
Picked on October 10th at 20.5 Brix (3% botrytis), destemmed and pressed. The juice was cold settled and racked on October 12th. Inoculated with W15 yeast and racked again at 2% residual sugar on December 4th. Cold and heat stabilized, and pad filtered in April and June 2014. Bottled on July 22, 2014.
An off-dry Riesling that offers a whisper of sweetness amid vibrant tropical fruit. This wine is a natural for taming the heat of spicier foods while leaving a touch of sweet on the palate. Fruit Source: Sawmill Creek Vineyards, Hector, NY. 21 grams Residual Sugar. 419 cases produced. 10.6% alcohol.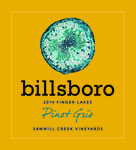 Pinot Gris
Harvested on September 29, 2014 at Sawmill Vineyards ( 8-15% slopes) at 21.9 Brix, the pristine fruit was destemmed and pressed. The juice was cold-settled, racked and fermented up to 61F with W15 yeast. No chaptalization was necessary. The wine finished primary fermentation in stainless steel and was racked on November 24th, subsequently filtered and stabilized. This 100% Pinot Gris was bottled (124 cases) on April 9, 2015. Soil: Lansing gravelly silt loam.
Light in color and body, with a surprising raciness on the palate. 13.3 % alcohol.


Pinot Noir
Leidenfrost Vineyards in Hector, NY is located along the southeast corner of Seneca Lake. The clones include 667, 777, and a "suitcase" clone from Clos de Vougeot. The steep-sided southwest facing vineyards are an ideal microclimate to grow premium wine grapes.
Handpicked and sorted on September 30th (1.78 tons), crushed in to 1-ton bins with 20% whole clusters. Fermented with RA17 yeast for 9 days then pressed off skins and racked in to 5 threeyear old French oak barrels to finish malolactic fermentation. Aged for 9 months with no rackings then blended and rough filtered in August 2015.
This earthy Pinot Noir opens with smoky, rustic aromas, characteristic of Leidenfrost Vineyards. Delicate in body, the earthy aroma gives way to notes of red cherry and white pepper. 12.5% alcohol. 110 cases produced.



Cabernet Franc
Harvested on October 28th at Sawmill Creek Vineyards, destemmed and transferred to three one-ton open top fermenting bins. 2 bins were inoculated with ICVGRE yeast and the third was left to indifenous yeasts. Pressed off on November 6th and November 10th respectively. Racked into neutral American and French barrels on November 12th, aged for 9 months and completed malolactic fermentation. Pad filtered in August and bottled on September 2, 2015 (134 cases).
The smoky bouquet of this Bordeaux varietal precedes complex notes of blackberry and olive, followed by a savory, lively and peppery finish. 13% alcohol.



Après Late Harvest
Ripened to golden perfection until late autumn, this hand-picked Vidal was whole cluster pressed. Excellent with fresh fruit, Gorgonzola cheese and toasted walnuts. Fruit Source: Sawmill Creek Vineyards, Hector, NY. 170 cases produced.