Clos de Luz >
Rapel Valley
>
Chile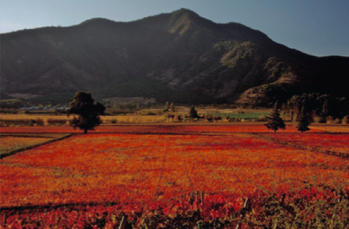 Clos de Luz is a family winery located in Almahue Valley, known as the birthplace of Carmenere in Chile - Carmenere represents 75% of the plantings. Gabriel Edwards currently runs his family domaine, after obtaining a Master in Wine Business in Burgundy and working for Undurraga, a large wine group in Chile, and Moët & Chandon. The estate, bought by his great grandfather in 1892, now spreads over 33 hectares of vineyards, planted in 1945 by Gabriel's grandmother, Luz. They are some of the oldest Carmenere vineyards in Chile, and probably in the world. The grapes were being sold for more than 20 years to Casa Lapostolle, until Gabriel decided to return to Chile and make his own wine.
Almahue Valley is located 70 miles South East of Santiago, 40 miles from the Pacific Ocean and 28 miles from the Andes Mountains. The viticulture history of the valley started in the XVIIth century during the Spanish colonization era. Modern viticulture started in 1933, when Gabriel's ancestors planted French grape varieties such as Merlot (that lately was discovered to be Carmenere) and Cabernet Sauvignon. Climate: rain reaches to up to 22 inches during the winter, on average. The growing season (Oct-April) offers beautiful days and warm temperatures with no rain. There are cool breezes in the afternoon and night time temperatures are cold. A wide temperature fluctuation between day and night allows to obtain high concentration in color and tannin. The grapes ripen slowly and reach ideal maturity while retaining a high level of natural acidity, ensuring a long aging potential.
The domaine's vineyards are 100% ungrafted. Because Chile is isolated from the phylloxera, they are planted "franc de pied", giving a unique character to the wines. The vineyards are also 100% Massal selection from old vineyards, as opposed to a large majority of vineyards planted using clonal selection (all genetically identical plants). Massal selection consists in selecting good and healthy vines, and then propagating them from cuttings. This method preserves the natural diversity of the plants. Different plants have different characteristics: some of them have softer tannins, some of them have higher acidity, some of them have an early ripening, etc. Each of them contributes a different characteristic to the final blend and the result is a more complex wine. The vineyards are plowed by horses, as the twisted trunks of the old vines make it impossible to use a tractor. The grass is removed with shovels. During the winter, a combination of grass is planted between the rows. Oat to decompact the soil, vetches to fix the nitrogen, mustard to decompact the soil and control soil pest. After the winter, this entire organic layer is integrated to the soil.
Farming practices and philosophy: the vineyards are certified organic by Ceres. The Massal 1945 wines strive to express the terroir of the Almahue Valley. Hand harvesting, strict fruit selection, gentle extraction methods and a judicious use of oak combine to preserve the fruit and create a wine of elegance and balance, with complexity and aging potential. The wines are not fined and vegan friendly.

Massal 1945 Carmenere
85% Carménère, 15% of Syrah. Fermentation with indigenous made yeasts. Aged for 12 months in French oak barrels of different uses.
Deep purple, inky color. Expressive nose, fresh red fruit aromas, spicy notes such as black pepper and bitter chocolate. Balanced and elegant palate. Velvety texture. Medium tannins with a round mid palate and a long finish. Cellar for several years. Decant and serve at 16°C (60°F). 2916 cases made.


Massal 1945 Cabernet Sauvignon
85% Cabernet Sauvignon, 8% Syrah and 7% Malbec. Old vines. The wine was fermented with indigenous yeasts and aged for 12 months in French oak barrels of different uses. Intense ruby red color. On the nose, fresh red fruit aromas such as plums and cherries and delicate notes of sweet spices. Very elegant. Concentrated body with balance and length. Good tannin structure and a round mid palate, persistent finish. 2916 cases made. 14% alcohol.