In the historic town of Montilla, south of Córdoba, the tradition of craftsmanship and winemaking has been maintained since Roman times. Pérez Barquero was established in 1905 and from its inception, has dedicated itself to producing wine from the best parcels, paying close attention to the harvesting, transporting and pressing of the grapes and the fermentation of the must. This is followed by a tasting and selection of the new wine which according to its characteristics is aged in barrels to become either Fino, Oloroso, Amontillado or sweet Pedro Ximénez. In 1985 the winery was purchased by Rafael Cordoba who owns three other wineries in Montilla: Bodegas Gracia, Vinicola del Sur and Tomas Garcia. They produce a large selection of both dry and sweet wines whose main characteristic is balance, elegance and finesse. Montilla-Moriles is a Spanish Denominación de Origen (DO) located in the southern part of the province of Córdoba, Andalusia. It is comprised of 7 towns, including Córdoba, and is bounded by the river Genil to the east, the river Guadajoz to the west, the river Guadalquivir to the north, and the Subbetic Range of mountains to the south. About 60 wineries are located there, but only 4 or 5 of them export their production. Pérez Barquero is among the highest quality ones.
-Their close to 100 hectares of vineyards are located in the most valued high quality zones of the Sierra de Montilla and Moriles Alto, on chalky soils. The winery also has long term contracts with growers for an additional 400 hectares of vineyards.
-Soils are rich in organic matter which contributes to the optimal maturing of the grapes.
-The majority of the planting is Pedro Ximénez (PX), indigenous to the Rin valley and introduced in Montilla by a soldier called Pedro Ximénez, back in the XV century.
-The PX grape is white, round, with a very thin skin, almost transparent, delicate and very sensitive to wet climates. It is very rich in sugar (high Baumé degree).
-The pressing house is located near the vineyards - as the ambient temperature can reach 100 degrees during harvest, maintaining freshness in the grapes is key. Vinification: It is typical in Montilla-Moriles to use 6000 litre amphoras called tinajas, made of clay or cement. The ones at Perez Barquero are cement. Fermentation begins in stainless steel tanks, but there is still about 5% residual sugar when the wine is moved to the tinajas. That's where it finishes its alcoholic and malolactic fermentation, and where a layer of flor develops. Tinajas are stored in a large two story room with high ceilings and open windows to control the temperatures. The wine ferments on indigenous yeasts - very import in order to fully ferment these high sugar/ high alcohol wines. These natural yeasts develop into the flor which gives these wines their particular character. They ferment naturally to 15-16 degrees. The wine rests in tinajas for one year, from September to September. There are 350 tinajas in one large, two-story room at Perez Barquero. It is in the tinajas that the winemaker can check to see if the pre-selection of wines are developing as planned (ie Fino, Oloroso etc…). After one year the wines are moved to the 500 litre double tapered American oak barrels known as sherry butts. Fino is raised in a cooler temperature-controlled cellar than other wines. Oloroso and PX are aged in warmer cellars with a great deal of air contact. The wines are cold stabilized to settle out the significant quantity of tartrates, which are then sold to make lipstick. The winery produces 6-7 million litres per year, 9-10 million bottles including brandy. Solera system: Typically a three tiered system of barrels used for blending to obtain a consistently high quality wine each year. Solera comes from the word suelo meaning floor as the first level of barrels, those resting on the floor, are called the solera. The level of barrels above the solera barrels are called the 1st criadera and the top level of barrels are called the 2nd criadera. Criadera means nursery. One third of the contents of the solera barrels (bottom row) are removed each year. These wines are blended together and either bottled for sale or they are used for an even older solera system. Then the 1st criadera barrels are used to replenish the solera barrels and the 2nd criadera barrels are used to replenish the 1st criadera barrels. Newly created wines are used to replenish the 2nd criadera. And so it goes each year.
Pérez Barquero Website

Grand Barquero Fino
100% Pedro Ximénez. This Fino is aged in a solera system of American oak barrels under a veil of flor yeast for 8 to 10 years. Flowery aromas of flor combine with nutty and roasted notes from the wood aging. Tangy and lemony attack, then the flavors expand to fill the mouth and lead to a long dry finish with notes of toasted nuts. Best served lightly chilled, this fino is ideal as an aperitif or paired with grilled vegetables and grilled or fried seafood. 15% ABV.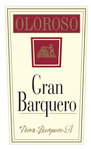 Grand Barquero Oloroso
100% Pedro Ximénez. Aged entirely without flor (the biological layer of yeast which protects fino and amontillado), this Oloroso sees oxidative aging in several criaderas, for about the same 11-14 year period as Amontillado Gran Barquero. During this long, slow development, the wine acquires a deep mahogany color and its characteristic rancio aromas of fine wood and toasted nuts. Mid palate of caramel and dried fruit and a very long nutty finish. Serve at room temperature with mild cheeses or with desserts (especially those containing nuts and cream), or slightly chilled on its own. 19% ABV.



Grand Barquero Amontillado
100% Pedro Ximénez. This Amontillado is aged in a solera system of American oak barrels in a two-step process that takes a minimum of 15 years. In the first stage, the wine sits under a veil of flor which imparts a distinctive lemony and floral note to the bouquet. During the second stage of the process, the wines ages by itself and acquires its characteristic rancio flavors of toasted almonds. This Amontillado pairs beautifully with mushroom dishes. Also wonderful as an aperitif, served cool but not chilled. 19% ABV.



Grand Barquero Pedro Ximenez
100% Pedro Ximénez. The grapes are partially dried one week before pressing and then aged in a solera system of American oak barrels for 4 to 6 years. This rich dessert wine has an almost opaque black color with mahogany highlights. Its bouquet marries dry fruits (raisins, figs and prunes) with complex aromas of coffee, cocoa and fine wood. On the palate, these elements make for an intense yet elegant wine in which the sweetness, fruit and power combine into a long, nutty finish. Serve room temperature with chocolate desserts or on its own lightly chilled. 15% ABV.



Solera 1955 Oloroso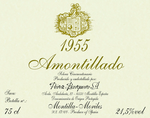 Solera 1955 Amontillado

Solera 1955 Palo Cortado

Solera 1955 Pedro Ximenez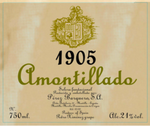 Soleras Fundacionales Amontillado 1905
100% Pedro Ximénez. This Amontillado is Perez Barquero's oldest and rarest wines.
ROBERT PARKER / THE WINE ADVOCATE, August 2013: "One of the oldest wines from the winery and on earth, the NV 1905 Amontillado Solera Fundacional is a non-vintage wine, and the year on the label refers to when the solera was initiated. Having said that, the average age of the wine is extremely high as the saca of wine from those soleras (saca means to take out, and is the word used for when some wine is taken from the solera and bottled) is extremely rare. The wine is believed to average 80 years of age, which means an extreme concentration of aromas, flavors and all other components. Dark amber color with a piercing, intense nose of noble wood, sea breeze, iodine, and hazelnuts, it is very detailed, pure, focused, sharp, salty, and on the verge of being painfully intense. With lively acidity, great concentration, and an eternal aftertaste, this is as unique and as good as Amontillado gets. Drink 2013-2030."