Meaning lower side of the hill in Italian, Poggio Basso is produced in the heart of Puglia, in a small town called Adelfia. The winemaker, Giuseppe Angiuli is one of Puglia's finest winemakers.
Farming practices: sustainable.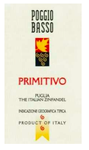 Primitivo
IGP Puglia - 100% Primitivo di Gioia del Colle.
The vineyard is located in Adelfia, in the DOC appellation of Gioia del Colle. Soil: red clay and sand. The vines are at least 40 year old and are head trained. The grapes are hand harvested mid September at optimum maturity. The grapes are dried for 2 to 3 weeks in ventilated rooms, just like Amarone (appassimento), to produce a wine with more structure and concentration. The winery is a gravity flow facility and uses no pumps during production. Soft pressing and fermentation at controlled temperature for 10 days, with racking. Aged in concrete tanks and released after a month in bottle.
Bouquet of herbs, orange zest and black cherry. Full and juicy. 14.5% alcohol.



Grappa del Piemonte
90% Nebbiolo and 10% Moscato. Notes of citrus, flowers and sweet herbs. It is extremely aromatic, with a superbly balanced palate that has a sense of lightness and an extremely lengthy and flavorful finish. 40%ABV