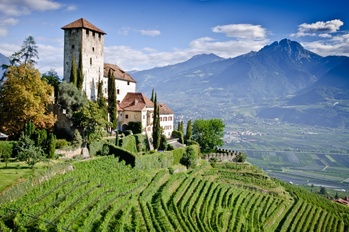 Meran's vineyards are located in the northernmost area of Italy's Alto Adige region, itself the northernmost part of Italy. The 380 grower-members own 260 hectares of hillside vineyards in the towns of Lana to the south, Merano to the east, Marlengo to the west and up to Rifiano and Tirolo in the north. The local climate is extremely hot in the summer with alpine cold in the winter. The dramatic landscape is very mountainous, with a variety of soils types and microclimates. At the northern limit of the wine growing zone, the high peaks of the Ötztaler Alps (reaching 9000 feet) protect the Merano vineyards against the cold winds. The valleys, exposed to the south, foster Mediterranean vegetation; palm, olive and cypress trees flourish. A total of 14 different grape varieties thrive in the region at between 300 and 900 meters of altitude. All vineyard work is done by hand on the steep and most often terraced slopes. The well drained soils on the slopes have stones and scree, while the valley floors are dominated by sandy-loam. The "Festival" wines highlight the vivid aromas and flavors, and the Graf von Meran wines are selections of native varieties from smaller sites.
Farming/vinification practices: sustainable farming. The wines are vegan.
Meran Website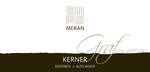 Kerner – Graf von Meran
The Kerner is a unique and crisp Alpine Italian white. The grapes, from elevated vineyards at 500 to 650 meters elevation, are harvested at the end of September. Aged on its lees for 5 months, in small temperature-controlled stainless steel tanks. Vivid and precise aromas and flavors of citrus, pear and minerals. 14% ABV. RS: 3.5 gr/l.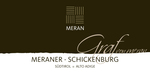 Meraner-Schickenburg (Schiava) - Graf von Meran
The Schiava (Vernatsch) is called Meraner Schickenburg because Schiava has a special DOC designation in the Merano region. A native, high-altitude Italian red variety, it has vivid dark cherry, violet and spice notes. The grapes are picked beginning to mid-October. 80% of the wine is aged in tanks and 20% in large oak casks to highlight its fresh and succulent character. It is bottled in March, after full malolactic fermentation. 13% ABV.