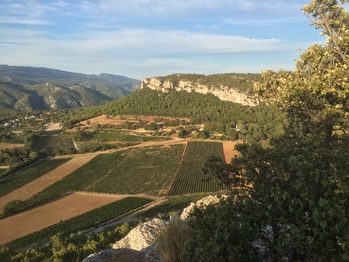 Raimond de Villeneuve's impressively beautiful, biodynamic vineyard is situated in an amphitheater, thus having a very special microclimate. Château de Roquefort is at an altitude of 1000 feet, allowing later harvesting, which results in more freshness and greater phenolic maturity, and therefore more complexity than is usual in Provençal wines. The 29 hectare of vineyards are located on the edge of the Bandol appellation - just over the ridge, so Mourvèdre does not ripen there as well as in Bandol (it is a difficult grape to ripen), so it is not the focus. One third of the vines are over 40 year old, with the rest ranging between 15 and 40. De Villeneuve is well-educated, well-traveled and with previous experience in the trade, having worked for Mommessin in Burgundy. This experience shows in the quality of the wines and the refined beauty of the package. He came back to his old family property in 1995, and his first vintage under the Château name was in 1998; previously the wines were sold in bulk. Raimond is an open-minded winemaker and taster, striving for quality and willing to honestly assess his wines. As well, he is always experimenting; after planting Cabernet Franc, he is now trying Portuguese varieties.

His talent has been recognized by Michel Bettane, calling him one of the finest winemakers in Provence: "incontestably, one of the great hopes of the Côtes de Provence... the wines perfectly combine ample and intense fruit with a rich and silky body. The wines of Roquefort possess a hedonistic character that will make you immediately rejoice."
Farming/vinification practices: Certified Organic. The different varieties are always co-fermented.
Vintage report 2014: "Beautiful but capricious". "Capricious because of the weather: it was the warmest year in more than 100 years, and yet the summer was quite moderate. It was also a very wet year, with heavy rain in January and February, and with further downpours from August through the end of December. 1300mm of water per square meter, that's simply huge! From September 17th to October 10th, we harvested, after selection, 192 tons of grapes. On four occasions our work was interrupted by heavy rain! At times we seemed to be in an almost subtropical atmosphere, and then our sainted Mistral blew and brought us clear skies … Memory has a knack of quietly eliminating the moments of fear, of pain … but it doesn't stop us from trembling at the approach of danger, like a dog when its hair stands on end! That's rather how we felt during the course of this vintage. And as if to add a little more spice to life, a little wine fly called Drosophilia Suzuki, originating in Asia, came to join the fun ! So we had to be in a particularly combative state of mind for this, our 20th harvest, a winemaker's vintage par excellence!"
Vintage report 2016: "When I think about all the climatic ups and downs suffered by agriculture in 2016, I consider myself quite happy! The number of grape bunches was plentiful and by the end of summer one could certainly see the effects of the lack of rain and of any cooler periods. All together, the rainfall was not really short at 756 mm, but the few summer showers fell elsewhere, depriving us of those moments of relief, and the Mistral was particularly tough ! And then, after a long wait, when all hope had gone and even the fig trees foliage was drooping, on September 14th a lovely downpour, coming in from the sea, saved us ! 65 mm of pure magic for the whole of nature. Finally, on the 19th of September, the harvest started, finishing with our beautiful Clairettes on the 11th of October."
Château de Roquefort Website

Petit Salé - Monblanc
Clairette from vines planted in 1954... with a touch of Vermentino. Stony clay-limestone soils, with West/Northwest exposure, at 380 meters high. Yields are 57 hectoliters/hectare.
"Petit Salé" (little salty) is the local name given to the Clairette grape. It refers to the small little white dots present on the grape and also to its slightly saline taste.
The grapes were destemmed and gently crushed. Maceration on the skins at 41F followed by extraction with a pneumatic press. Fermentation at temperature controlled (64F to 73F) with malolactic fermentation blocked in order to maximize the freshness. Cold stabilized. Aged in concrete tanks before bottling in February and March.
Pale color, fine bouquet with a floral and mineral character and notes of white peach and lemon. Lively on the palate, a precise wine, influenced by limestone and flint, delightfully fresh. 12% Alcohol.



Côtes de Provence Rosé - Corail
The parcels for the rosé are always the same, but the combination is always different. 30% Grenache, 25% Syrah, 20% Cinsault. 10% Carignan, 10% Vermentino, 5% Clairette.
The wine was produced through direct pressing, partially destemmed. Certain varieties went through a cold maceration for 8 to 24 hours before being pressed. Cold clarification and natural fermentation between 64 and 73F. Gravitational work in the cellar as often as possible.
"Corail" is the domaine's rosé and it has classic Provencal characteristics. Pale coral color with a delicately spicy nose of citrus fruits, lively on the palate with notes of white fruits, citrus and a hint of fennel. Clean and refreshing finish. 13% Alcohol. 138,000 bottles produced.



Gueule de Loup
80% Grenache, 10% Cinsault, 10% Cabernet Sauvignon -vines between 25 and 55 year old.
The cuvée can be a single vintage or a multi-vintage. The grapes are manually harvested and 90% are partially de-stemmed and crushed. The vinification lasts two to four weeks in temperature-controlled tanks, with élevage in cement tanks (80%) and foudre (20%). The wine is unfined and unfiltered.
The robe is deep and slightly violet. The nose is pure and dominated by notes of red fruit and red currant. Full and fresh on the palate. 14% Alcohol.



Côtes de Provence Rouge - Les Mûres
40% Grenache, 30% Carignan, 20% Syrah and 10% Cinsault. The vineyard benefits from a relatively cooler climate thanks to its higher altitude (1200-1300 feet). These older vines (35-60 year old) are planted in a "cirque", or natural amphitheater, formed by a glacier, on clay-limestone with a stony surface and numerous slate outcroppings, with western and northwestern exposure.
The vinification takes place in concrete tanks, a part of which are open and in which "pigeage ", or punching of the cap, is performed. Temperatures are never permitted to exceed 77° F, to prevent over-extraction. 20 months elevage in large foudres (2, 5 and 10 year old), or 40 hectoliter casks, and cement tanks. Unfined and unfiltered.
Deep purple in color, this wine exhibits rich notes of ripe, dark cherries, blackberries along with that classic provençal underpinning of 'garrigue'. An elegant and refined cuvée with polished tannins.



Pourpre
40% Syrah, 40% Mourvedre, 20% Carignan - Vines from 35 to 55 years.
"Coincidenta Oppositorum": it is rare to be able to vinify together and at perfect maturity the early ripening Syrah with the late ripening Carignan and Mourvèdre. The result of an unusual climate, this cuvée is the third in thirteen years. Aged in demi-muids (600-liter oak barrels) for 26 months. La Pourpre is meant for aging and is unfiltered. 3480 bottles et 260 magnums produced.