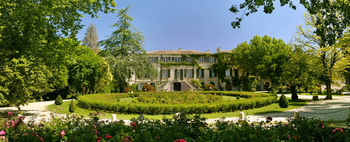 Château d'Estoublon, in Les Baux, is one of Provence's most striking properties. It is located in the heart of Provence on the outskirts of Fontvieille, and on the south-facing slopes of the Alpilles. It covers almost 200ha, of which 86ha are planted with olive trees and 19ha with vines. The vines are under Appellation d'Origine Contrôlée Vallée des Baux-de-Provence since 1995, the date of the creation of this AOC. Since 2012, the AOC appellation has been moving towards Appellation d'Origine Protégée (AOP). Since taking over the property in 1999, Valérie and Rémy Reboul have carried out extensive work in the vineyards and in the wine cellar.
In the vineyards: With guidance from Eloi Dürrbach of Domaine de Trevallon, they rearranged the plots, pulling up old vines and planting between 1999 and 2003 new vines using selection massale. Grenache noir, Mourvèdre, Syrah and Cabernet-Sauvignon have been planted, along with Marsanne, Roussanne and Grenache blanc. They have been working for a number of years on meticulously maturing and blending reds made from Grenache, Syrah and Mourvèdre – the 3 varieties that form the backbone of the Château d'Estoublon vintages – as well as a touch of Cabernet Sauvignon (less than 10%). The white wines are blends from Marsanne, Roussanne and Grenache.
In the wine cellar: with a surface area of 6500sf, and following complete renovation in 2000, the cellar houses 80-hectolitre foudres for vinification and 32-hectolitre oak casks in which the wine is aged, as well as various other casks and barrels. Since 2006, the range of containers has been completed by natural concrete amphorae: with a capacity of 675 litres, these oval tanks made of natural concrete have been molded without the use of any binders or synthetic additives. They are made from selected clay, silica and sand carefully washed in spring water, and thus containing no chlorine, in accordance with the specifications governing organic wine making. Weighing a total of 1,200 kg, they contain no metal reinforcement, thereby avoiding any Faraday cage effect (i.e. magnetic fields). Their perfect oval shape is based on the "golden mean" or "divine proportion" (1.618), a number used since ancient times by architects, painters and artists to create perfectly proportioned works. The amphorae favors expression of the soil and of the fruit. Low-temperature fermentation ensures wines with precision and minerality. Natural micro-oxygenation of the wines occurs thanks to the micro-pore structure of the amphorae, thereby minimizing unwanted reduction. The perfect fluid mechanics ensure that fine deposits are suspended (natural stirring of the sediments). Amphorae are used in the creation Château d'Estoublon's wines as a tribute to gentle and non-interventionist winemaking methods.
The soils: 3/5 coarse-grained gravel, 1/5 silt, 1/5 clay. A key feature of the vineyards in the Vallée des Baux is the diversity of soil types. Château d'Estoublon has deep, well-drained clay-based soil in the low-lying plots and limestone soil in the vineyards at the edge of the mountain. With help from Claude Bourguignon to identify the best parcels, the vineyard of Estoublon are being moved gradually towards the Alpilles, and thus towards limestone soil. There is very little active limestone here compared to the rest of the appellation.
Farming: organic since 1999. Certified Ecocert.
In addition to its superb wines and oils, Château d'Estoublon has become favored destination for visitors who are drawn to the property's beautifully manicured grounds, olive grove and vineyard tours, and the market-driven cuisine of chef Patrick Bry at Bistrot Mogador set in the Chateau's former olive oil mill.
Château d'Estoublon Website

Domaine d'Estoublon - Les Alpilles Blanc
1/3 Marsanne, 1/3 Roussanne, 1/3 Grenache Blanc - Vin de Pays des Alpilles.
The grapes are hand-picked early September. 75% of the wine is vinified separately and aged in barrels. The remainder is vatted in 675-litre amphoras. Fermentation with indigenous yeasts, no added sulfites. Aged for 9 months on fine lees, then fined with clay and filtered. Green olive and citrus on the nose, with a hint of tropical fruit. In the mouth, a touch of pineapple, full body, dry and lively, with a long finish. 14.5% alcohol.



Domaine d'Estoublon - Les Baux rouge
30% Grenache, 30% Syrah, 30% Mourvèdre, 10% Cabernet Sauvignon- AOP Les Baux de Provence.
The grapes were hand harvested at the beginning of September and 100% destemmed. Each variety is fermented separately in 80 hl cuves tronconiques. Fermentation with indigenous yeasts, no added sulfites. Then aged for 18 months in 32hl foudres and barrels, blended together, then fined with clay but unfiltered.
Nose of dark fruit (blackberry, cassis), hint of coffee, savory meaty notes. Fine and firm tannins, generous wine that maintains its freshness and will age well. 14.5% alcohol.