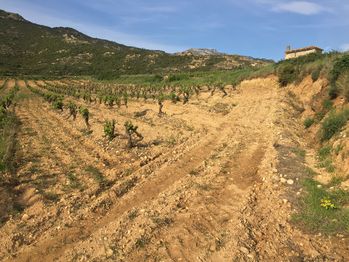 Bodegas Ramon de Ayala is located in the tiny town (about 250 people) of Brinas, in Rioja Alta. Established in the northwest of Rioja between the mountain of Toloño (part of the mountain chain of Sierra de Cantabria) and the left margin of the Ebro river, Briñas is a privileged village for vine cultivation. It is 3 km from Haro (Rioja Alta) and another 3 km from Labastida (Rioja Alavesa).
The domaine is a five generation family property that was created in 1853 by Tomas de Ayala. The winery now owns 30 hectares of vineyards in Rioja Alta (Briñas, Haro and Rodezno) and Alavesa (Labastida). Most of the vineyards (80%) are planted with Tempranillo. The rest is used to grow Viura, Mazuelo, Garnacha and Graciano. The oldest vineyard was planted in 1920, and most of the vineyards are 30 to 40 year old.The total production is around 18,000 cases.
In 1985, a new functional winery was created. It has 4700sf of underground facilities, equipped with stainless steel tanks and 500 liters barrels. The old bodega, which has a two story underground wine cave, is now used for aging homemade Cava.
Today the Bodega is run by Gonzalo (the agronomist, in charge of the vineyards) and his uncle Ramon (the oenologist, in charge of the winemaking).
Farming practices: organic. Will spray sulfur if needed.
Vina Santurnia Website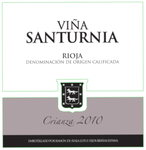 Rioja Crianza
100% Tempranillo from Rioja Alta (Haro) and Rioja Alavesa (Labastida).
Fermented in stainless steel tanks (it stayed in tank until October 2011) and racked successively. The wine was then aged for 24 months in neutral barrels (80% American oak, 20% French) and put back to tanks until bottling, in September 2014. It spent an additional 12 months in the bottle before release. A bright, ruby-red wine with good structure. Round in the mouth with a pleasant finish. 14% alcohol. 6666 cases produced.



Rioja Reserva
Blend of Rioja Alta (Rodezno, vineyard planted in 1990) and Rioja Alavesa (Labastida, vineyards planted in 1980 and 1991).
90% Tempranillo, 5% Graciano, 5% Mazuelo.
The grapes were manually harvested then fermented in stainless steel tanks. The wine stayed in tank until October 2009. It was then aged in casks (70% American, 30% French, 5 to 8 years barrels) for 30 months and put back into tank for 3 months before bottling, in July 2012. It spent a minimum of 24 months in the bottle before release. This is a classic Rioja, that puts extraordinary quality at a very inviting price. 13.8% alcohol. 2166 cases produced.