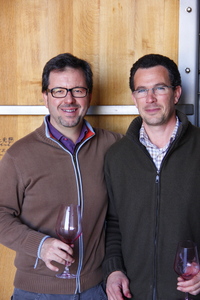 Rodríguez Sanzo is a wine company devoted to uniting the most important Designations of Origin of the Spanish wine scene. The wine expert, Javier Rodríguez - the architect of the project - produces high quality wines with an excellent value for money ratio, in collaboration with small growers belonging to some of the most important D.O districts like Rueda, Rioja, Toro, Ribera del Duero, Priorat or Vinos de la Tierra de Castilla y León in Spain and Douro in Portugal. In particular, he is very interested in working with vineyards along the Duero river. In 2007 he began a new venture in Portugal in conjunction with Joao Soares of the winery Messias utilizing the native Portuguese varieties. He is currently working on a project with the Spanish government in conjunction with U.C. Davis to map out the indigenous grape varieties of Spain. One important goal for Javier Rodríguez is to respect and reflect the different characteristics of each of the terroirs.
Javier works with 75 hectares in Rioja, located mostly in the mountains, at 600 meters high. They are planted with Tempranillo, Graziano, Maturana and 3 hectares of Tempranillo white (a natural mutation of Tempranillo). The juice from each vineyard is vinified separately, because each ferments with indigenous yeasts. The resulting wines are then blended.
Farming practices: organic, not certified, with some biodynamic practices. Animal manure for fertilization. Sulfur and copper against fungus. Pheromones and organic spraying against insects.
Valsanzo Website

"Cerdo Con Gusto" Rioja
100% Tempranillo.
From vineyards in the Cidacos Valley with major digs of Dinosaur fossils. This area of La Rioja receives influences from both Atlantic (cool winds) and Mediterranean Sea (warmth). Cold maceration for a few days followed by pressing, alcoholic and malolactic fermentation in tank with indigenous yeasts, then transferred to barriques with scraped inside-ridges to increase the wood to wine ratio. Aged for five months in mostly American oak.