The great amphitheatre of vines which rise up from the Grand Cru village of Bouzy, in the Montagne de Reims, represents one of the most famous vineyards in the world. Bouzy has been famous for its Pinot Noir production since the early 1600s, giving birth to wines characterized by their richness of flavor and powerful bouquet. Bouzy also is the only village with the right to produce a Grand Cru Pinot Noir still red wine. The Champagne region is characterized by its chalky sub-soil, whose porous nature serves to promote grape maturity by stocking and then re-distributing heat, and acts as a reservoir from which the vines can survive the driest summers. The minerality of this chalky substrate imparts a particular expression to the grape. Bernard Tornay created the eponymous Champagne house in 1950, when he took over from his father-in-law Gaston Barnaut. Both his family and his wife's were involved in the Champagne production since the 17th century, a tradition handed down through the generations. Today the company is run by Bernard's daughter Nathalie and her husband Rudy. Talented vintner Rudy Hutasse is a third generation Champagne producer. Trained at the Lycée Viticole d'Avize, he worked at Laurent Perrier for 17 years before taking the reins from his father-in-law in 1997. The domaine comprises 23 hectares: 5.5 ha of Chardonnay, and the rest Pinot Noir. 15 ha are at Grand Cru level, 3 to 4 ha at 1er Cru level, and the rest is sold in bulk. The vines are worked according to the precepts of culture raisonnée, with minimum use of pesticides and fungicides. Grass is allowed to grow between the vine rows, and all the grapes are hand-harvested. Around 8500 cases are produced each year.
Bernard Tornay Website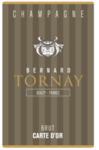 Brut - Carte d'Or
70% Pinot Noir, 30% Chardonnay.
Hutasse shares the perspective of a large maison, in that he places great importance on consistency, by being able to maintain a house style. To that end, he keeps enormous stocks of still wines (up to 6 year old). The grapes for the Carte d'Or come from the communes of Bouzy, Ambonnay, Trépail, Bisseuil, Tauxières, Les Riceys, Vertus, Mareuil and Epernay, all vineyards of very high level:
- 55% Grand Cru from the communes of Bouzy and Ambonnay.
- 12% 1er Cru from 99% vineyards in Mareuil and Tauxieres.
- 30% 1er Cru from 95% vineyards in Vertus, Trépail, Bisseuil.
- 3% from a mix of vineyards in the 80% to 88% range.
The wine undergoes full malolactic fermentation, for greater roundness. This Brut Non-Vintage is an assemblage of 70% wine from the most recent harvest and 30% reserve wine of 4 year minimum. It is kept "sur lattes" for up to three years, enhancing its richness, compared to the mandated one year for a non-vintage cuvée. The bottles are cellared for an additional six months in order to integrate the liqueur d'expédition. Dosage: 8 to 9g/l.
This non-vintage is round and elegant, with fine bubbles.