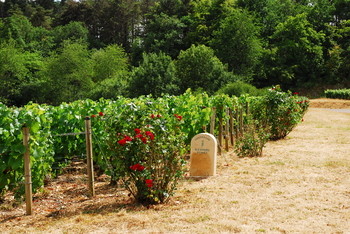 Owned by renowned producer Bruno Paillard since 1998, this old estate is located in the village of Les Riceys in the Aube. It is the largest producer of the rare, still Rosé des Riceys.
The domaine is comprised of 45 hectares of hillside, Kimmeridgian-limestone soil vineyards. They are divided into 37 plots, predominately located around Le Riceys, with a few vineyards located in neighboring villages. 41.5 ha of Pinot Noir and 2 ha of Chardonnay make up the majority of the plantings; however, in the 1.5 ha of "La Géande," a parcel with a unique microclimate, Pinot Blanc, Pinot Gris, Pinot Meunier, Arbane, and Petit Meslier are cultivated. Some trusted winegrowers provide additional grapes.
The winemaking team consists of General Manager François Lange, who has been with Bonnet since 1977; Didier Mele, the Vineyard Manager since 1999; and Winemaker Alain Pailley, who joined the team in 1985. Pailley is responsible for the signature house style of minerality, power, and purity of character. He vinifies plot-by-plot and prefers low-temperature fermentation. He eschews oak in order to bring forth the pure aromas and distinctiveness of each plot which a barrel may hide. The Champagnes age sur lie for 2 to 8 years, depending upon the cuvée. After disgorgement, they rest a few months longer so they are ready to drink upon release.
Farming practices and philosophy: the vineyards have been certified "Viticulture Durable en Champagne" and "Hautes Valeurs Environnementales," two labels that reward excellency in sustainable practices. The rows are partially covered with grass, and hazelnut and rose trees are planted amongst them. The " Cadoles," typical sheds made of rocks that were used for protection in case of bad weather, have been renovated. The yields are kept low. Close monitoring of the weather, prophylactic methods and constant attention paid to the vineyards resulted in a drastic reduction of treatments. No insecticide is used, and most of the vineyard is herbicide-free.

Alexandre Bonnet Website

Rosé des Riceys
This little known AOC (only 30 hectares planted) comes from a tiny terroir named Les Riceys made up with three close-knit fortified villages named Ricey-Haut, Riceys-Haut-Rive and Ricey-Bas. They are in the Aube département of the Champagne region - closer to Burgundy than to their northern Champagne compatriots. Those villages have the choice between three AOC: Champagne, Côteaux Champenois and Rosé des Riceys.
Rosé des Riceys wines are rosés produced from Pinot Noir. They must reach 10º naturally. They are either fermented in stainless steel tanks for early drinking or in wood allowing longer ageing. They have a distinctive taste known to the French as goût des Riceys.
This cuvée comes from "La Forêt", a 40 year old Pinot Noir vineyard located on a sunny hillside, with a uniquely expressive terroir. Very few other Champagne vineyards have such a vertiginous, south-exposure slope that ensures, year in year out, perfect ripening of the fruit and exceptional potential alcohol. The yields are kept low for maximum concentration. The winemaking process is called "Saignée", in which the crushed grapes are left to soak with the skins, until the character of Rosé de Riceys is obtained. 12.5% alcohol. Bonnet is the largest producer of Rosé des Riceys, with 250 cases.



Brut - Grande Réserve
85% Pinot Noir, 15% Chardonnay - the vines average 25 year old. Blend of several vintages: 50% 2012, 15% 2011, 15% 2010, 15% 2009. Grande Réserve represents Alexandre Bonnet know-how and values. Beyond the very notion of vintage, it expresses the outstanding quality potential of Pinot Noir grown over Les Riceys with a touch of Chardonnay to soften the Pinot's natural tangy flavors. Aging is adapted for each vintage, 3 to 8 years. Dosage: 9gr/l.



Blanc de Blancs - Harmonie
50% Chardonnay and 50% Pinot Blanc - the vines average 25 year old. The grapes are from the 2013 vintage. Vintage notes: The development of the vines had been significantly slowed early in the year, with a long winter and cold spring. The Pinot Noir flowered in the middle of July, when the sun finally came out to play. A short rainy spell at the beginning of September allowed the vines to replenish their water supplies before the sun returned to provide optimal maturation conditions right up till harvest.
This cuvée offers a chiseled acidity contrasted by generous notes of dried fruit. The Pinot Blanc brings elegant notes of white flowers and exotic fruits. Dosage: 9gr/l.



Brut - Expression Rosée
100% Pinot Noir from vines that average 25 year old. The grapes are from the 2010 vintage. Powerful and robust. Bright pink color with copper highlights and fine regular bubbles. Intense bouquet with hints of strawberry, cherry, and gooseberry. It shows a darker character on the palate, offering sappy blackberry and tart cherry flavors enlivened by a mineral quality. Dosage: 9gr/l.



Blanc de Noirs - Noir Extra Brut
100% Pinot Noir from vines that average 30 year old. The grapes come from the best plots, and this cuvée is a blend of three vintages: 52% 2010, 24% 2009 and 24% 2008. It is only made in the best years. The aging is adapted to each vintage, between 3 and 8 years. Generous and age-worthy, the Noir is a reflection of the distinguished terroir of Les Riceys. It is incredibly balanced, with aromas that are both fruity and spicy. On the palate, hint of citrus fruit and spices and a long, nutty finish. Dosage: 3gr/l.