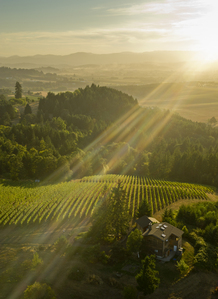 Born in Racine, Wisc., and raised in Idaho, Pennsylvania and Illinois, winemaker and winegrower Chris Berg didn't always know he wanted to make wine. In fact, when he graduated from the University of Kansas in Lawrence, with a bachelor's in English, he wasn't sure what his future held, as far as a career. Meanwhile his parents, Chuck and Dian Berg, had decided to relocate to Oregon from Illinois with the purchase of a manufacturing company in Tualatin, Ore. Chris soon followed and helped his parents at the plant, as well as the other reason for the big move: planting a small vineyard.
In 1999, the Bergs planted seven acres of mostly Pinot Noir on the 20-acre property near Yamhill in the Yamhill-Carlton District of the Willamette Valley. Chuck and Dian built a small house on the vineyard, and Chris lived in Portland with his wife, Hilary, also a Jayhawk. The manufacturing business closed its doors in 2000, and the Bergs found themselves full-time winery folk. In 2001, Chuck and Dian moved to the sunny locale of Wickenburg, Ariz., to be near Dian's parents. Chris and Hilary were then given the opportunity to move to the vineyard from Portland. In 2002, the Bergs picked their first harvest of a whopping three tons, which were made into 72 cases of Pinot Noir.
Today, Roots produces approximately 3,800 cases annually. Wines include the flagship estate Pinot Noir, as well as several single vineyard-designate Pinot Noirs, sourced mostly from neighboring vineyards in the Yamhill-Carlton AVA. Other wines include an estate Pinot Gris, Melon de Bourgogne, Viognier, Syrah and a Méthode Traditionnelle sparkling named after their son, Theo. All these wines are made in small lots and handcrafted using indigenous yeasts. Roots' reserve Pinot Noir label, Racine, honors the town in which Chris was born. (The name means "root" in French).
In homage to one of Chris' favorite artists, Roots' second label, Klee (named after Paul Klee), makes up the largest portion of the case production with 2,000 cases made annually. The artwork is their own adaptation of a Klee painting. Roots' other second label, Sheboygandy — a play on words combining Sheboygan (another Wisconsin town) and Burgundy, the ultimate Pinot Noir region. Both Klee and Sheboygandy are made from premium Pinot Noir fruit.
Vintage notes: The 2014 vintage in Oregon may be remembered as the vintage of a lifetime. From bud break through harvest, growers and winemakers experienced an almost ideal growing season, delivering a record amount of exceptional, balanced fruit. Root's own estate and its family of growers were no exception. The growing season, and ultimately harvest, was an average of two weeks ahead of schedule. With mostly dry and warmer-than-normal growing conditions throughout the spring and continuing through summer, the 2014 vintage broke the previous record for heat accumulation set in 2006. Chris was able to harvest in almost pristine conditions with no signs of disease and minimal fear of pest or bird effects.
Farming/winemaking practices: organic. Indigenous yeasts only. The wines are not fined (except the whites, with bentonite) and are vegan.
Roots Wine Co Website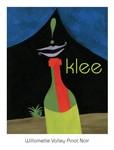 Klee Pinot Noir
In homage to one of winemaker/owner Chris Berg's favorite artists, the wine is named for the famous Bauhaus artist Paul Klee. The artwork on the label is an adaptation of a painting called Solution "ee". of the Birthday Assignment, 1924. The fruit for this Pinot Noir comes from a mix of vineyards, including Roots, Saffron Fields, LeRoy and 49 Rows. All sites are located in the Northern Willamette Valley and were planted between 1971 and 2007. Most of the soils in these vineyards are silty loam with various percentages of sandy loam underlying.
The wine is fermented with indigenous yeasts and aged in French oak barrels (10% new oak) for 11 months. It is meant to be fruit forward. Like the Bauhaus school where art is for the people, this wine is for the people. Heady aromas of cedar, mushroom, earth and black cherry emerge from the glass. On the palate, the fruit-driven wine shows soft tannins and flavors of dark cherry compote, strawberry leather, stewed plums and rose oil. The finish lingers with bright acid to complete the taste experience. 3000 cases made.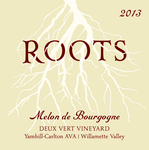 Roots Melon de Bourgogne
Melon de Bourgogne 2014 is from Deux Vert, a vineyard planted back in 1995. Chris Berg has been working with the fruit since 2008. Typically the fruit is pressed and settled, then racked to neutral barrels and undergoes indigenous fermentation. The fermentation usually lasts about 20 days, with two batonnage at the end of the fermentation to coax a little creaminess. Chris then tries to bottle the wine before the malolactic fermentation starts. Aged for 6 months before release. Hint of anise and fennel on the nose, little brininess on the palate and a bright lemon finish. 150 cases produced.



Roots "Fairsing" Pinot Noir
Planted in 2007, Fairsing Vineyard currently has 32 acres of vines planted with spacing of 1.0 by 1.8 meters (2,240 vines per acre) on a 170-acre site. The vineyard is dry farmed on sedimentary soils with sustainable practices. The foundation of the vineyard is well drained silty-clay-loam soils which developed over sedimentary parent material. Predominant soils are the Windy Gap (46%) and Bellpine (11%) series which have a reddish color, and the Goodin (18%) and Dupee (11%) series which are browner. Soil depth to soft weathered bedrock ranges from moderately deep (Bellpine - 26" and Goodin - 29" ) to deep (Windy Gap - 55" and Dupee - 62"). Elevation: 500 to 800 feet.



"Sheboygandy" Pinot Noir
"Sheboygandy": part Sheboygan (where Chris is from), part Burgundy, all good!
Fruit from 1/3rd Estate Vineyard, 2/3rd Saffron Fields.
Estate Vineyard: the Roots Vineyard is 6.5 acres of Pinot Noir planted in 1999 and 2000 with clones 777, 113, 115 and 114. It is located northeast of Yamhill in the Yamhill-Carlton District and is on the same hillside as Shea Vineyard, Dussin Vineyard, Deux Vert Vineyard and Lenné Vineyard. It is 475 to 650 feet high.
Saffron Fields is 350ft high and planted with Pommard clone.



Roots - Estate vineyard
Roots Estate Vineyard lies on a ridge just east of the sleepy town of Yamhill. Year planted: 1999 & 2000. Elevation: 450 to 600 feet. Clones: Dijon 113, 115, 777. Soils are primarily Goodin and Melbourne, which are sedimentary in origin. Trellis style is vertical shoot positioning. Throughout the heart of the vineyard is a vain of iron oxide, that lends to a deep color and rich mineral notes. The wine from this vineyard has a complex array of aromas and flavors, including black and red fruits, particularly blackberry, spice and earth. Fermentation with indigenous yeast. Aged in new oak for 18 months. Alcohol: 13.9%. Production: 174 cases



Roots "Crosshairs" Pinot Noir
The 2013 Crosshairs is a blend of 40% Fairsing Vineyard (Dijon clone 115 and 114), 40% Estate (clone 113 and 777), 20% Saffron Fields (Pommard clone). Native yeast. Aged for 16 months in new French oak (Tonnellerie DeFarrari, Rousseau), 30% new. 350 cases produced.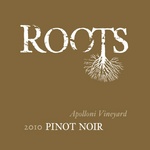 "Apolloni" Pinot Noir
Fruit from the Apolloni Vineyard (1.8 acres Pinot Noir), located deep in the foothills of the coastal range, outside of Banks in the northernmost part of the Willamette Valley AVA. 45 cases made.