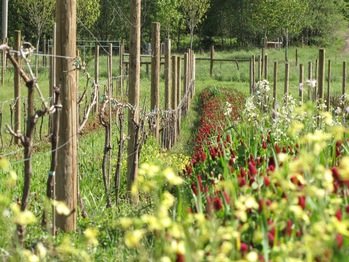 Stephen Hagen and his wife Niki founded Antiquum Farm out of a strong desire to raise their children, Daisy and Juel, in a similar way to Stephen's childhood. Daisy is responsible for the daily care of their equine partners and scouts the vineyard on horseback almost daily throughout the growing season. She also manages the poultry flock. Juel has forsaken horses for skateboarding. However, he is keenly interested in shepherding, wine growing/making, and cooking. He has recently been learning to run farm equipment and taking part in blending trials for the wines.
Stephen Hagen is a native son of the Willamette Valley's coastal foothills. He was raised only a few miles down the road from what is today Antiquum Farm. Stephen was steeped in a great appreciation for all things outdoors and was given free reign to roam the streams, hills, and woods for miles in every direction on foot, bike, or horseback. He grew up to know the country well, and developed a deep knowledge and love for his native Oregon hills. It is this intuition that guides his farming, winegrowing, and vinification decisions. He began learning the art of working draft horses after purchasing the land that was to become Antiquum Farm.
The vineyard: Bearing both traits of a warm ripe site and a high-elevation late ripening site, Antiquum Farm is a place of anomaly. It defies any clear classification. The site consistently records some of the warmest daytime vineyard temperatures in the valley. The fruit maturity is regularly well advanced in comparison to most other sites. However, this is not the whole story. If it were, one might expect to find broad jammy wines lacking structure or balance. In truth, the vineyard yields well framed, deep dark fruit, fine polished tannins, rippling high toned almost tropical acidities and confectionary delights. Antiquum Farm is one of the rare sites that seems to have it all and is truly like no other in the new world. Perched at 800 feet above sea level, it is nearly at the edge of what is considered a growable elevation for pinot noir in the Willamette Valley. Despite this elevation, the slope seems to collect and amplify heat during the day. Stranger still, the vineyard is warmer the higher up the slope you go. The nights see the trend reverse. This, especially as the days shorten, causes the fruit to hold its' acids. These acids balance the massive dark fruit tones produced by the warm daytime temperatures giving the fruit structure, finesse, and complementing bright high tones.
The soil type is a classification known as bellpine: silty clay loam over sandstone parent material. It is the most depleted of all classified vineyard soil types in Oregon. The sandstone base is the remnant of an ancient seafloor. The topsoil is quite thin. Bellpine soil typically inhabits the upper elevations of the southern Willamette valley. Alternate soil types at lower elevations received significant sediments carried on ice age floods. Other valley soils received lava flow, wind and river deposits. Vineyards located on bellpine soil need to dig deeply. The deeper a vine must root, the more variations it will encounter throughout the strata. These variations build complexity and interest. For this reason, Stephen refuses to irrigate his vines. They must dig for their needs. Bellpine sites are typically late maturing due to their thin top soil and depleted base material combined with high elevation. An early maturing site on bellpine soil such as Antiquum Farm is an unusual blessing. When these components join forces it constitutes the holy grail of pinot. Depth, power, structure and finesse in perfect balance.
Farming practices: The soils are cultivated in the tradition of pre-1940s agriculture. No outside fertilizers, synthetic or otherwise, are used. The vineyard floor is intensively managed for abundant life. This means letting the wild in, while contributing species enhance vine health, insect habitat and diversity. Returning livestock to this mix is essential: a flock of Katahdin/Dorper crosses are the cornerstone of fertility management. The Hagens' use intensive rotational grazing to cycle nutrients from diverse cover crops to the vines. Several years of this practice have lead to a vineyard that needs no other fertilizer, creating wines that are truly site specific.
Vinification: fermentation with indigenous yeasts for all the wines. They are vegan.
Antiquum Farms Website

Pinot Gris Rosé - Aurosa
The Pinot Gris grapes for this wine are grown more like a high end Pinot Noir, employing more sun exposure to the clusters and shoot positioning throughout the growing season. This ensures a thickening of the skins and allows a fuller spectrum of flavor and aromatic development. Conversely, the yields are elevated to increase acidity, repress sugars, and lengthen hang time. The increased crop loads helps to retain a framework of minerality and acidity.
The fruit is gently crushed and left on the skins for 36 hours before being pressed and barrel fermented with indigenous yeasts. It then rests on the lees for 5 months, in 50% stainless steel tanks and 50% neutral French oak barrels. The lees are frequently stirred throughout this final period to build layers of texture and complexity.
This bone dry Pinot Gris showcases a charming light copper color. Slight wisps of lavender, violets, and tea rose intermingle with citrus, river stone, and steel in a layered texture. 13% alcohol. 125 cases produced.



Pinot Gris – Daisy
Daisy is focused, precise, and all about refined texture, minerality and crisp acidity. Citrus and floral components blend seamlessly with pom fruit, lemon curd, pear, river stone and metallic nuance. The wine is barrel fermented with indigenous yeasts, and rests on the lees for 5 months in 50/50 stainless/neutral French oak. The lees are gently stirred to build texture before finally allowing the wine to settle naturally. 13% alcohol. 550 cases produced.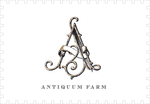 Pinot Noir - Juel
Power, structure and finesse in perfect balance. Antiquum Farm is unusual in its ability to ripen lush fully mature deep dark fruit, and yet retain abundant natural acidity. This interplay creates an exciting tension that is rarely experienced. This vineyard produces mouth loads of fine-grained fruit-driven tannin. Generous treatments of new French oak (40% for 11 months for the Juel) never overwhelm the unique attributes of this site. This cuvée is fermented with indigenous yeasts.
A lush fruit core is embraced in a framework of rippling acidity that gives the wine an electric purity, focus and movement. Deep bramble and confectionary fruit are offset by singing tropical tones, rose and whisps of lavender and violet. Background notes of aged balsamic, tobacco and blood orange. 14% alcohol. 350 cases produced.


Pinot Noir – Passiflora
Passiflora confounds many pinotphiles. Inky, almost Syrah-like color leads one to assume Passiflora will be an overly lush fruit bomb. An aromatic dervish of passion fruit, peach, apricot, and floral notes however counter deep bramble fruit and blueberry. On the palate, opulent blue fruit tones swirl among singing hi-toned acidity. This wine is both beamingly bright and darkly powerful in the same moment, without feeling disjointed. It will cellar for many years to come.
This cuvée is fermented with indigenous yeasts. Aged in 50% new French oak for 11 months. 14% alcohol. 150 cases produced.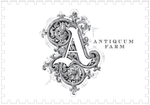 Pinot Noir – Luxuria
Luxuria is sourced from a two acre block of Pommard and 777 clone sourced from 3 Allier barrels. The lush fruit core is fully developed and encased in layer after layer of mature fruit centric tannin. Multiple waves of dark stone fruit and bramble are met by an electric purity and focus to the countering bright acidity. The sumptuous oak treatment (10 months in 50% new French oak) plays nicely with the more-of-everything theme of Luxuria. This cuvée is fermented with indigenous yeasts. 14.2% alcohol. 70 Cases Produced.