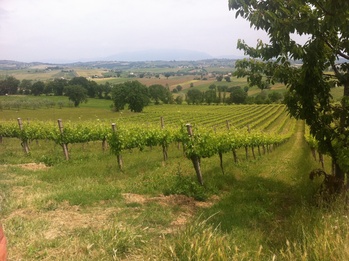 Situated south-east of Montefalco in Giano dell'Umbria, Azienda Agraria Moretti Omero is owned and run by Omero Moretti. The area is small but in ten years has grown from 30 farms to 62. The origins of the property go back to just after the first World War, when in 1925 Moretti's grandfather Domenico emigrated from Switzerland, using his savings to buy his first olive grove. Omero fell in love with farming after receiving his first tractor in 1972 and joined the family business, eventually bringing his wife Daniela and two daughters, Lucia and Giusy, into the fold. Today, the 32 ha estate has over 4500 olive trees and 38,000 vines (11 ha).
In 1992, the estate adopted organic viticulture and in 1993 Omero began making a luscious olive oil. In 1997, he planted vines and four years later crafted his first vintage of Sagrantino. Omero Moretti was the second winery in Umbria to be certified organic. In 2005, Moretti began a project with the University of Perugia, working with two selected strains, one of Sagrantino and one of Malvasia, respectively, maintained at the University.
Moretti produces two whites: Grechetto and Nessuno, a blend of Grechetto and Malvasia. The estate also produces four reds: Terre di Giano, a blend of Sangiovese-Ciliegiolo-Merlot; Montefalco Rosso; Sagrantino; and Sagrantino Passito. Traditionally made in a sweet style (Passito), winemakers started to produce Sagrantino in a dry style in the late 1980's.
Soils: Fertile, deep soils of medium texture, with clay and limestone.
Farming practices: Certified organic. Organic compost of grasses and manure. Copper and sulfur on the grapes when needed. 2015 will be certified Vegan.
Omero Moretti Website

"Terre di Giano" Umbria IGT
25% Ciliegiolo, 50% Sangiovese, 25% Merlot.
Fermented for 15 days in stainless steel tanks under temperature control. Aged six months in tank until bottling. 10,000 bottles produced. 13.5% alcohol. The wine is deep purple in color. The aromas are quite fresh and expressive, with notes of black cherry and red fruits. Flavors are deep and juicy, with very good middle density of fruit and balanced acids.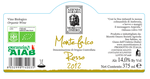 Rosso di Montefalco
50% Sangiovese, 25% Sagrantino, 25% Merlot.
The law specifies a minimum of 70% Sangiovese (along with the use of Sagrantino) but few people follow this requirement. Omero has 3 hectares in Montefalco DOC. Aged for 12 months in 2 year old barrels previously used for his Sagrantino di Montefalco.
10000 bottles produced.



Sagrantino di Montefalco
100% Sagrantino.
Aged for 24 months in French oak barrels, then 6 months in bottle. Dry and full bodied, firm tannins, very dark, ripe fruit, notes of spices and cocoa. 3.4 grams RS per liter.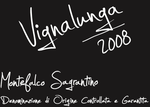 Montefalco Sagrantino Vignalunga
100% Sagrantino.
The grapes are hand picked at the beginning of October. 15 days fermentation with indigenous yeasts. The wine is aged in French oak barrels for 24 months followed by a minimum of 6 months in bottle before release. Aromas of ripe plum and blackberry jam, with clove in the background. Complex and rich on the palate, with a persistent dry finish. 15% alcohol.