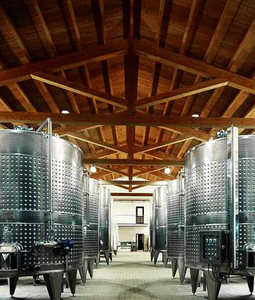 Azienda Agricola Custodi Gianfranco is located in the hills of the locality of Canale, in the Classico zone of Orvieto. They cultivate 37 ha of vines and 70 ha of olive trees. It was founded in 2003 by Gianfranco Custodi and built into the hill facing Orvieto and its famous Duomo. Today Gianfranco is assisted by his daughters Laura and Chiara. The winery produces around 2000 cases per year.
Farming practices: the vineyards are treated in a sustainable manner, encouraging the natural health of the soil.
Gianfranco Custodi Website

Orvieto Classico
Blend of Procanico (sub variety of Trebbiano, producing smaller and more intensely flavored berries compared to its Tuscan cousin), Grechetto, Drupeggio, Verdello and Chardonnay, all from estate vineyards. The soil is dominated by volcanic rock, with tufa and limestone. The best bunches are chosen for the Orvieto Classico - other grapes are declassified into the "Bianco Umbria" blend. The grapes are lightly pressed and fermented at cool 59-60F in stainless steel tanks for 15 days with selected yeasts. The wine remains at cold temperatures in tank until bottling in February-March.
Concentrated notes of pear, apricot and lemon, both juicy and fresh, with good texture and fine acidity. 12.5% Alcohol.
Orvieto Classico "Belloro" DOC history: viticulture was introduced to the Orvieto region by the early Etruscans, who carved out cellar-like caves from volcanic soil that could house wine production with long, cool fermentation and produced the type of sweet wine that was popular in the ancient world. From the Middle Ages to the mid-20th century, the Orvieto region was not known for its dry white but rather for its sweet dessert wine made with the noble rot, Botrytis cinerea. Unlike most botrytized wine, such as Sauternes, where the grapes are introduced to the Botrytis fungus while they are on the vine, the grapes of Orvieto were exposed to the fungus after harvest, when they were packed into crates and barrels and stored in humid grottos carved out of the tufa stone. These sweet wines were deep gold in color, described by the poet Gabriele d'Annunzio as "the sun of Italy in a bottle". Today, dry primarily and off-dry Orvieto comprise over 90% of the production.