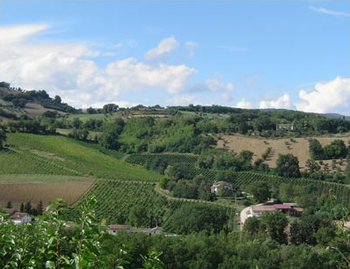 The Rocchi winery is in the southern part of the Marche, not far from the border of Abruzzo, in Caldarola (MC) Contrada San Domenico. It was founded by Orlando Rocchi, who bought the property in the late 1960's and planted three hectares of vineyards. In 1999, management was handed down to son Paris and daughter Sabrina, which led to an expansion of the vineyards and the purchase of twenty hectares of land in the municipalities of Serrapetrona and Belforte Chienti (MC), within the DOCG Vernaccia di Serrapetrona.
The winery now has six hectares of vineyards in Serrapetrona and seven in San Ginesio - both tiny appellations. The vineyards are 250 meters high.
- Serrapetrona- south facing on ancient chalk quarries, with sulfur and chalk subsoil-rock formations covered by top soil. On a high ridge, with an excellent wind flow that cools the sunny vineyards.
- San Ginesio: Planted in the late 1960's. South and south-east exposure, facing in Colle de Croce, a village and medieval fortress town at the base of the Sibillini Mountains. The soil is characterized by an alternation of sandstone and clay, which give a strong mineral complexity to the wines.
Vineyard treatment: sustainable. No chemical fertilizers or pesticides.
The wines were imported for the first time in the U.S. in 2012.
Paris Rocchi Website
Vernaccia Nera San Ginesio - Spumante Secco
San Ginesio DOC was created in 2007, for reds and sparkling reds. Paris Rocchi was the first to obtain the appellation that same year. Now there are two other growers.
A dry, red sparkling produced using Charmat method. Made from over 85% Vernaccia Nera (by law), from fresh grapes - not dried. Dark purple color, dark black cherries on the palate, fresh and clean. 22 gr RS.



Vernaccia di Serrapetrona - Spumante Dolce
Vernaccia di Serrapetrona gained DOCG status in 2003. There are only five growers : four make the historical sparkling and one makes still wine.
100% Vernaccia grapes. Over 40% of the grapes have been dried "appassimento" from mid-September to mid-November, then pressed, fermented separately and aged on the lees for five months. During the spring, they are blended with fresh juice for a second fermentation, spending an extended six months in Charmat. Dark, almost black color, black-purple fruits with spicy notes, moderately sweet richness, beautiful clean finish. 65 gr RS.