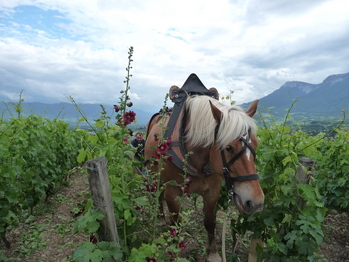 Domaine Gilles Berlioz is located in Savoie, near the charming village of Chignin, ten miles south of Chambéry. This wine region, backed by the south side of the Bauges mountains, presents the particularity of having all vineyards located on the hillsides. The domaine is close to a natural reserve (Natura 2000) and a tourist area (ski resorts, Lake Bourget, ...). It is in this environment, in which the vines are integrated into the local landscape, than Gilles Berlioz runs his domaine.
In 1990, Gilles was working as a landscapist in a regional company when he inherited a small family vineyard of 2 acres from his father, a labourer. He discovered a passion for wine and started to buy other parcels in Chignin, choosing to keep it to a small 3.5 ha and convert from conventional to organic and biodynamic agriculture, only trusting himself to care for the vineyards. ""Over the course of the years", he affirms, "I've been able to observe the changes this kind of cultivation has made: The soil is more fertile, the roots have penetrated much more deeply and the vines have become stronger and more resistant. The end result of all this is found in the wines I produce!". With 30 hectoliters/ha - which amounts to 4 or 5 grape-bunches per vine-, his parcels have some of the lowest yields in Savoie, the average being around 70 hl/ha. The grapes are harvested by hand, the pressing is slow (4 to 6 hours) and the fermentation is carried by native yeasts.
His estate consists of four distinct plots:
- Bordiot: 0.65 ha of Mondeuse and 0.15 ha of Persian
- Les Chateaux and Chez Odette: 1.1 ha of Roussanne and 0.3 ha of Jacquère
- La Tournaz: 0.12 acres of Roussanne
- Les Cray: 0.8 ha of Jacquere and 0.3 ha of Altesse Mondeuse, Persian, Roussanne, Jacquère and Altesse are the traditional grape varieties of Savoie. Each variety is matched to a particular lot so that the resulting wine is of the highest quality and best reflects the terroir. Gilles Berlioz offers micro cuvées that best highlight each terroir. The domaine is totally organic and biodynamic since 2005, and certified Eco-cert.
Chignin "Claudius"
100% old vines Jacquere (30 to 80 year old) from 2 parcels, "Les Crays" and "Chez Odette". The soil is clay on a limestone base. The parcels are on south-west facing slopes, with a gradient of 20 to 50%. Berlioz debuds, but does never practice green harvest. He does some leaf thinning towards the end of August, looking for maximum aeration of the grape bunch. Hand harvest in 2 passages. Uses minimal SO2. Indigenous natural yeasts, no chaptalisation, and the wine is neither acidified or de-acidified. The malolactic is 100% completed and the wine is racked once after malos. It stays on the fine lees until April and is then filtered (but never fined) before bottling - according to the lunar cycle at the end of the month. 11.5% alcohol. It is a light, zesty wine, with surprising length and a chalky lift on the finish. Just under 600 cases produced.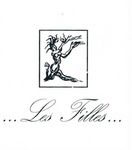 Chignin-Bergeron "Les Filles"
Bergeron is the local name for the aromatic grape variety of the Rhône Valley known as Roussanne. The grapes come from 2 parcels, "Les Chateaux" and "La Tournaz". Rich and complex with aromas of white flowers and peach, a fresh and silky palate and a finish evoking apricot, honey and hazelnut. 12.5% Alcohol.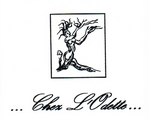 Chignin - "Chez l'Odette"
100% Jacquere
« With his 2010 Chignin Chez l'Odette, Berlioz permits an outstanding, steep parcel with young vines to solo. The result is not only overtly high acid and mineral but even tends toward austerity, something I can scarcely recall having written or said before about a Jacquere! In all of these respects, this is rather Riesling-like. The subtle diversity of stony, crystalline, and saline nuances is utterly fascinating as glimpsed through a transparent and juicily refreshing stream of lime, pear, and apple. Like the corresponding Jaja, this demonstrates enormous promise as the vines that inform it mature. As for bottle maturation, I would advise monitoring it over the coming 18 months as perhaps it has potential to evolve interestingly even past that point. » Wine Advocate, April 2012