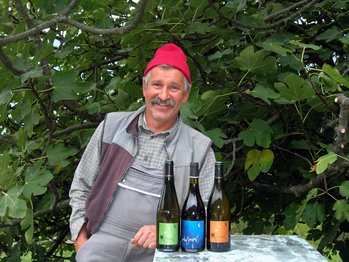 In 1991, Jacques Maillet became a member of the local coop of Chautagne. Always interested in organic viticulture, he was denied any financial assistance to persevere in this path and had to adopt "conventional" farming practices. In 1999, he fell seriously ill, having contracted a cancer caused by the handling of the various toxic chemicals he was using. While battling the illness, he reexamined his farming practices and decided to work "autrement". It took him three years to recover and in 2003, he switched to biodynamic practices. He sold most of his vines, going from 6.5 hectares to the 2.5 hectares he could work alone. The price paid by for grapes purchased by the Coop not being sufficient for him to make a living, he decided to make his own wine. He bottled his first vintage of "Autrement" in 2004. He is now back to about 4 hectares, split between his "Cellier des Pauvres" parcel in Motz (with Mondeuse, Roussette and Jacquère) and the "Vignes du Seigneur" parcel in Serrières en Chautagne (Gamay and Pinot Noir). Both parcels are on hills with a 20 to 50% slope and South West exposure. The soil is composed of molasse (marine sediments agglomerated) and limestone screes, which gives the wine great acidity. The vines are very old with an average of 50 year old, up to 100 years for the Mondeuse. The yields are low: between 35 and 40 hectolitres per hectare. Farming/cellar practices: Biodynamie - no chaptalisation, no filtration and no sulfur or very minimal level. Indigenous yeasts. All the work is done manually, from ploughing to harvesting.
Le P'tit Canon
50% Altesse, 50% Jacquère.
Soil:Molasse soils (marine sediments agglomerated) and limestone screes.
Vineyard: Cellier des Pauvres, south-west exposition, altitude between 250 and 380 metres. Old vines in gobelet pruning.
A nice combination of Altesse and Jacquère: the Jacquère brings straightness and vivacity whereas the Altesse brings delicacy, volume and elegance to the wine. It's a great mineral and well-balanced wine with citrus fruits and floral aromas.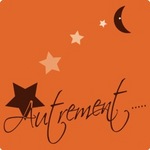 Altesse - "Autrement" blanc
100% Altesse (aka Roussette), hand harvested.
Size of lot: 0.95 ha.
Yield : 30 hl/ha.
Soil: mix of sandstone and chalk sediments.
Exposure: west.
Vinification in temperature controlled vats, minimal sulfur added (if even necessary) at bottling, no filtration.