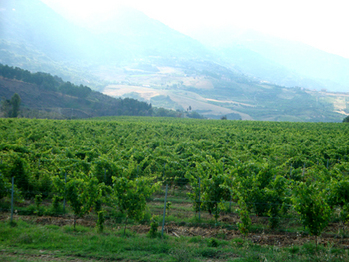 Located in the North East of Sicily, not far from Librizzi, Tenuta Gatti is a 217 hectares estate on the slopes of the Nebrodi mountain range. This setting of great natural beauty is still a pristine corner of true Sicily. Since 1825, five generations have cared for the land. Gatti is an old Sicilian family, originally coming to Sicily from Malta in 1450. The winery was started in 1825 in the same building being used today. Nicolas was taken by his mother (Russo) to live in Argentina as a baby but returned often to the family winery, and moved there permanently after he gave up his work in aerospace in 2003. He makes 4 reds, 2 whites and 2 spumante.
The estate hosts a variety of plantations (citrus, olive, chestnut and hazelnut trees as well as forests) but is particularly proud of its vineyards, which spread over 17 hectares. The cultivated varieties are mostly indigenous: Grillo, Insolia, Catarratti, Malvasia, Nocera and Nero d'Avola, with some international ones such as Merlot, Cabernet Sauvignon, Pinot Nero and Sauvignon Blanc. Every bunch of grape is selected and handpicked.
Farming/winemaking practices: organic since 1992 and certified. The wines are vegan. Animal derivatives are never used.
Tenuta Gatti Website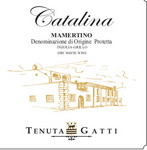 Catalina - DOP Mamertino
Mamertino is just west of Faro, in the northern foothills of Mt Etna. A blend of Inzolia and Grillo (a bit more Inzolia), from vineyards 350 to 450 meters above sea level. The soil is clay.
Harvested in September. Fermented at very low temperatures for 25 days and aged in stainless steel tanks. A delicate wine, fresh and fruity, with a unique personality. 13% Alcohol. 500 cases made.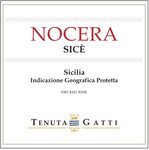 Nocera Sice - IGP red
100% Nocera.
One of the rare 100% varietal Nocera wines made in Sicily. Appellation Mamertimo has a maximum of 30% Nocera grapes. Here you get to see what this variety is all about, very aromatic, wild cherry, sharp tannins. A very bold wine, wild and beautiful. Just 260 cases produced. Sice means "it's here, it has arrived." 13.5% Alcohol. 208 cases produced.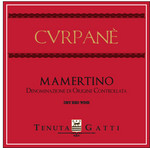 Curpane - DOC Mamertino
Mamertino is just west of Faro, in the northern foothills of Mt Etna. "Curpane" is Sicilian dialect for the word Cuprani, the name for the Contrada (locality/ subregion) where Tenuta Gatti is located. Gatti named this wine Curpane in honor of his father.
70% Nero d'Avola, 30% Nocera (the Nocera is harvested late, mid-October) - North-West facing vineyards.
Fermented for 6 to 8 days in stainless steel tanks, then aged for 12 months in barrels of 2500 liters. Aged an extra 4 months in bottles before release. This is a hearty red wine with dark fruits yet fresh, not unlike the wines of Faro to the east around Messina. 13.5% Alcohol. 833 cases produced.