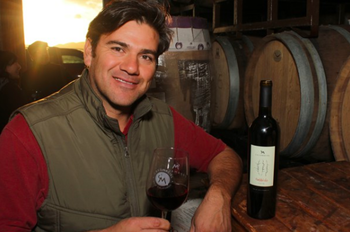 Jorge Maciel was born in Ensenada, Baja California, in 1970. His winemaking experience has evolved over more than 20 years, beginning in his 20's when he first learned to make wine while living in Italy. He later decided to make his own wine and purchased equipment from a friend. Production was very limited at first, and mostly shared with friends and family. In 2005, Jorge formed a partnership with his wife Ana Laura Valencia, and converted his hobby into a full-time career. He handles all winemaking related duties while Ana oversees sales and marketing. In 2009 they took a significant leap forward, and the total production is now 2500 cases. Cava Maciel epitomizes the "anything goes" spirit of Baja considering that the winery itself is located in the middle of a residential neighborhood!
The labels, each with a Celestial reference, serve as a reminder of the constant influence of our surroundings and how everything is interconnected. Farming practices: sustainable.
Cava Maciel Website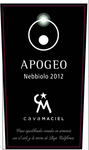 Apogeo Nebbiolo
Over the years Cava Maciel has developed a huge following for their uniquely crafted, 100% Nebbiolo. It is aged for 18 months in 50% French 50% American oak barrels; 60% new. Nose of red ripe fruits, with a hint of violet. Notes of truffles, bitter chocolate, tobacco and roasted coffee. A voluptuous wine with firm tannins.