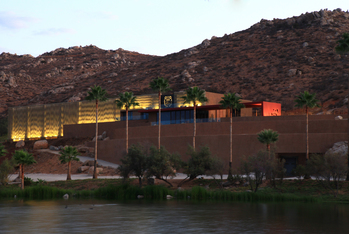 Dr. Hans Backhoff and four of his friends founded Monte Xanic in 1987. Recognized as Mexico's first boutique winery, it is a state-of-the-art, award-winning estate. The idea for the name and logo came after a spring rain: the entire valley was covered with beautiful desert flowers, which led to the name Monte Xanic, which in Mexican and Indian means "the first flower that blooms on the mountain after the rain". The total production is 50,000 cases per year. Some grapes come from the estate vineyards, some are purchased. The grapes are harvested by hand, at night.
Monte Xanic Website
Sauvignon Blanc
100% Sauvignon Blanc, fermented and aged in stainless steel tanks. Crisp nose with intense aromas of tropical fruit (guava, passionfruit, pineapple and mango) along with fresh citrus, orange blossom and jasmine. Vivid acidity and long finish.


Cabernet Sauvignon
100% Cabernet Sauvignon. Aged for 12 months in French oak barrels. Notes of red fruits, rose petal, fresh plum, spices (pepper, cinnamon, and vanilla), chocolate and black licorice. Fleshy with moderate tannins.


Cabernet/Syrah - Calixa
80% Cabernet Sauvignon and 20% Syrah. Aged 9 months in French oak barrels, mostly neutral oak. Intense aromas of red fruits (raspberry, cherry) plum, spices and lily. Full-bodied with round tannins. On the palate, background of white pepper and eucalyptus, adding freshness and complexity to the wine.