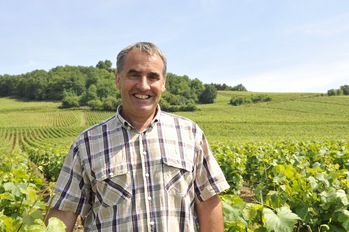 See recent press for Domaine Chofflet-Valdenaire COTE CHALONNAISE - GIVRY
The Chofflet-Valdenaire estate is located in the hillside hamlet of Russilly, in the Givry appellation, at the center of Burgundy's Côte Chalonnaise region. The 14-hectare estate has been in their family for over 100 years. Since 1996, the estate has been run by Denis Valdenaire, son-in-law of Jean Chofflet. Denis produces three deliciously fruity red Givrys: the Givry Rouge AOC, 1er Cru Clos Choue, 1er Cru Clos Jus - and a small amount of rarely seen Givry Blanc.
Farming practices: Denis Valdenaire has been dedicated to sustainable farming for over 20 years and was an early devotee of culture raisonnée practices. Valdenaire prunes severely in the Spring to eliminate excess growth and thereby mitigate vine diseases, enabling him to limit treatments to the absolute minimum. The soils are plowed in most of his vineyards to break up surface roots and train the vine's roots to penetrate deeper.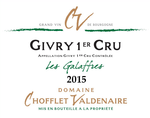 Givry blanc - Les Galaffres 1er Cru
Domaine Chofflet-Valdenaire cultivates about half of the 3 hectare Givry Blanc 1er Cru Les Galaffres vineyard. It is located next to the Clos de Choue in Russilly and the vines are 40 year old. The exposition is due south with a mix of limestone and white clay for the soil, making it ideal for Chardonnay. Denis Valdenaire harvests his white grapes after the reds. He gently presses the grapes for two hours to ensure that the juice is as clear as possible. Fermentation occurs in tanks for 90% of the harvest, while 10% is vinified in new barrels. The young wine develops in tank on its lees and is assembled with the barrel-aged portion in June, after the malolactic fermentation finishes. The Givry Blanc 1er Cru les Galaffres is then lightly filtered by diatomaceous earth and fined with bentonite clay before bottling in August. 320 cases are made.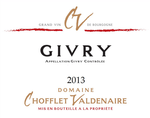 Givry Rouge
Pinot Noir from 30 year old vines. The Givry Rouge AOC comes from several sloping, amphitheater vineyards in Russilly on limestone-clay soils with southeast exposures. Unusual for the region, the vineyards for this cuvée are on the protected middle and upper slopes where the temperatures are highest throughout the day, giving the fruit extended opportunity to ripen. At harvest, the grapes are 100% de-stemmed and given 5 days of cold maceration, after which fermentation begins at controlled temperature, not exceeding 28C. Denis Valdenaire prefers periodic light foot-treading to crush the grapes (done four times in 2012) and he pumps the juice over the cap of skins once per day. One-half of the cuvée is aged in 228 litre oak casks averaging three years of age, and the balance is matured in concrete tanks. The parts are assembled in July and bottled before the next harvest. Bright, succulent and spicy dark cherry and plum fruit and is ready to enjoy upon release. About 2000 cases are produced annually.



Givry Rouge - Clos Jus 1er Cru
Domaine Chofflet-Valdenaire's Givry 1er Cru Clos Jus comes from an east-facing hillside looking out to Chalon-sur-Saône. This ideal, sloping vineyard, with stony, red clay and limestone soil, was recognized as the finest hillside site in Givry before phylloxera. The entire slope was then abandoned, and only replanted in 1990. Yields are naturally low and the grapes are always small (due to millerandage), making for very concentrated fruit. The altitude is 245-280 meters. At harvest, the grapes are 100% de-stemmed and given 5 days of cold maceration before the start of fermentation at controlled temperature, not exceeding 28C. Denis Valdenaire prefers periodic light foot-treading to crush the grapes (done four times in 2014) and he pumps the juice over the cap of skins once daily. 100% of the cuvée is aged in 228 litre oak casks with 20% new and 40% each one and two year old. The Givry 1er Cru Clos Jus is assembled after 14 months of aging and bottled one month later. About 400 cases are produced annually.
Pronounced black-fruit taste, typical of the Côte de Nuits which caused the owners of the replanted vineyard to wonder about the Givry-ness of the Clos Jus after their first harvests. No living person ever having tasted a Clos Jus wine before. They have since learned to cherish the uniqueness of this site; indeed, in a recent comment on the Clos de Lambrays Grand Cru, the Revue du Vin de France remarks on how the Grand Cru's "complex bouquet" recalls that of the "young and surprising Clos Jus of Givry."