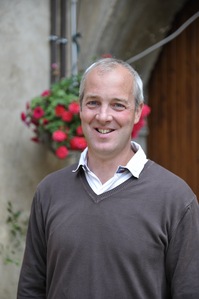 The Lebreuil family estate in Savigny-les-Beaune dates back to 1935, when present winemaker Jean-Baptiste Lebreuil's grandparents purchased two hectares of vines. Pierre, Jean-Baptiste's father, enlarged the estate to seven hectares and acquired a bottling line to ensure that he would be able to bottle the majority of his production. After stages in Bordeaux and abroad, and a degree from the Lycée Viticole in Beaune, Jean-Baptiste joined his father in 1999. The Domaine became known officially as Pierre and J-B Lebreuil in 2001 and was further enlarged to its present size of 9.5 hectares, all based around Savigny-les-Beaune.
Jean-Baptiste Lebreuil quickly made technical improvements in the cellars, installing new equipment to ensure perfect cellar hygiene ("primordial for the realization of great wines" he affirms). His aim is to produce vividly fruity Savigny-les-Beaune wines with great finesse and soft tannins. Vinification and aging follow classic Burgundian practice as it is understood by today's quality-oriented winemakers The Pinot Noir grapes are transported to the winery in small plastic crates to protect the integrity of the fruit. After a full de-stemming, the grapes are given a cold maceration at 8 degrees centigrade with daily pumping over, to bring out the color and fruit aromas. The alcoholic fermentation lasts about 10 days, and very little press-wine is used. The wines settle and clarify in the fermentation tanks and are then transferred to barrels for 12-16 months of maturation. Farming practices: Lebreuil prunes intensely to reduce yields and ensure healthy fruit. He uses no herbicides and plows the rows 5 times per year to remove grass and aerate the soils so as to encourage the roots to grow deeper. If the crop is deemed too large, Lebreuil green harvests at the time of veraison. In short, all measures are taken to ensure the harvesting of the finest quality fruit. Biodynamic practices have been started since 2011.
Pierre et JB Lebreuil Website

Aloxe Corton
Domaine Lebreuil owns just under 1 hectare of vines in the Aloxe Corton lieu dit "Les Boutières." The site is on the lower Corton slope, bordering Chorey. The oldest vines were planted by Jean-Baptiste's grandfather in the 1930s; the average age of their entire holding is 70 years. The site faces south and is on a slight slope. The soil is a mix of clay and sand. The grapes are transported to the winery in small plastic crates to protect the integrity of the fruit. After a full de-stemming, the grapes are given a cold maceration at 8 degrees Celsius to bring out the color and fruit aromas. The alcoholic fermentation begins with the native yeasts and lasts about 10 days. In the first three days of the vatting period, Lebreuil circulates the juice over the cap of skins; this is followed by 7 days with one punching down of the cap per day and finally 3-5 brief remontages per day until the wine is transferred to casks. Very little press-wine is used. The wine is allowed to settle and clarify in the fermentation tanks and then it is transferred to barrels where it ages for 15 months. The barrels are 20% new and the balance is between 1 and 6 years of age. The Aloxe-Corton Les Boutières is assembled over the summer and bottled in November. Jean-Baptiste Lebreuil does not fine and lightly filters through diatomaceous earth. Production is about 300 cases yearly.



Savigny-les-Beaune Blanc - Dessus des Gollardes
Lebreuil's Savigny Les Beaune Blanc Dessus Des Gollardes is a blend of 70% Chardonnay and 30% Pinot Blanc, the latter coming from 60-year-old vines. Lebreuil owns one-half hectare of vines in this sloping, south-facing climat. It is situated at the upper limit of the Savigny les Beaune appellation, at 280 meters altitude. The soil is pure white limestone. Both varietals are harvested and vinified together with the native yeasts. Lebreuil matures his Savigny Blanc in barrels — 15% new, 25% one-year; 30% two-year and 30% three-year-old – for eleven months. The malolactic fermentation generally occurs in the Spring. Lebreuil does no bâtonnage as the wine ages on its fine lees, to ensure that the wine's exuberant fruit is not overpowered or muted. The Savigny Blanc is assembled into a stainless steel tank in August and then bottled in October, after fining with bentonite clay and a light filtration. Lebreuil's Savigny Blanc is an original and compelling expression of white Burgundy, with bright, citrus fruit and mineral and wild-flower notes. 400 cases are produced.



Bourgogne Rouge
Jean-Baptiste Lebreuil owns 2.5 hectares of Bourgogne Pinot Noir vines spread across 3 parcels, each with distinct soils and microclimates. The interplay of these 3 origins gives this cuvée its exceptional complexity, flavor and style. The vines average 40 year old. The largest Bourgogne holding is located in the upper part of the village of Savigny, at an altitude of 350 meters. The vines are trained high to give the grapes maximum exposure to the sun, and harvesting is done by hand. This parcel is picked last, 7-10 days after the smaller parcels at lower altitude and on richer soils, which are the first sites to be picked. The wine is vinified in the same manner as the other reds but is 50% aged in barrels and 50% in tank for only 10 months to ensure its fruity and accessible qualities.
The 2015 Vintage began with an early and ideal flowering in mid-June and sunny and dry weather. July and August brought heat mixed with adequate rainfall. Cool nights which kept the grapes in excellent health as ripening proceeded steadily. The weeks leading up to harvest were dry and sunny and the grapes attained good natural levels of sugar, ripe tannins and full color without any loss of freshness. Lebreuil harvested in the first week of September under perfect conditions. In 2015, Jean-Baptiste recalls, "everything came together to give us a vintage of succulent, elegant, rich, pure and delicious Pinot Noir fruit. Just my style of wine."



Savigny-les-Beaune Rouge
The Savigny Les Beaune Rouge has concentrated dark cherry fruit in a very pure, elegant style. It comes from many parcels with differing characteristics, mostly on lower slopes at about 200 meters of altitude. Lebreuil blends these different origins to craft his Savigny Rouge in the supple and silky style he seeks. It is aged in oak casks that are 15% new; 30% one-year; 30% two-year; 25% three years old.



Savigny-les-Beaune - Les Grands Liards
Les Grands Liards is from a "lieu-dit" parcel of just over half an hectare in size. With 44 year old vines on the south-east facing slope just beneath the 1er Crus, the Grands Liards has more texture and grip than the AOC, with a darker shade of fruit and wonderful balance. It is aged in oak casks that are 15% new; 30% one-year; 30% two-year; 25% three years old.



Savigny-les-Beaune - Serpentières 1er Cru
Lebreuil's Savigny Les Beaune 1er Cru Aux Serpentières parcel is located in the heart of the south-facing 1er Cru slope on pure limestone-clay soil. Most of the 0.23 hectare of vines were planted by Jean-Baptiste's great-grandfather Paul in 1924, making them an average of 90 years of age. The wine is aged for 15 months in oak casks that are one third each new, and 1 and 2 years old. It is bottled in December after a light Kiselguhr filtration and no fining. The ancient vines help to explain why the Serpentières is Lebreuil's most concentrated and structured wine, with a core of ripe, sumptuous fruit. An average of 100 cases are made annually.



Savigny-les-Beaune - Aux Peuillets 1er Cru
In early 2005, Jean-Baptiste obtained a small, 1/5 hectare parcel in the Aux Peuillets vineyard. A retiring vigneron chose Jean-Baptiste to carry on the cultivation of these 40 year old vines. The parcel is situated on the lower part of the Pommard-side slope. Its deep soil, and long-ripening (due to its north-east exposure) period, gives an intense, fleshy wine brimming with black cherry Pinot Noir fruit, which is very appealing when young. Lebreuil made just 125 cases in his first vintage of Aux Peuillets. Fermented with indigenous yeasts. Aged in barrels, 12 to 14 months, 30% new, then 1 year, 2 years and three years old. Lightly filtered before bottling.